Marlin Steel was named the top medium-sized "Technology Implementer" in the 2013 VOLTAGE awards presented in the Greater Baltimore region by SmartCEO magazine.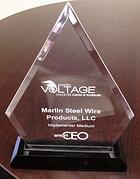 Marlin was one of nine winners from among 29 finalists, who generate a total of about $50 billion in annual revenue and employ more than 177,000 people. The annual awards spotlight business success in leveraging technology. The finalists are recognized, the organization said, "for their creative vision, leadership philosophies, innovative strategizing and undeniable work ethic."
"Technology is a big driver of our transformation at Marlin Steel," said company President Drew Greenblatt. "We've invested $3.5 million in state-of-the-art automation to maximize our precision and speed in building material-handling containers for many industries."We are glad to be recognized as a 'technology implementer' because it is our people who implement the technology that matter. Our automation is effective because of skilled engineers here devising innovative solutions for clients and top-flight machinists carrying out those designs in steel wire baskets and sheet metal fabrications."
"It's no secret that the evolution of technology is what drives business forward. These companies are pushing the limits of innovation – streamlining processes, finding efficiencies and discovering the next great product," said Craig Burris, founder and president of SmartCEO.
The nine VOLTAGE winners in Greater Baltimore were:
Technology Implementer:
Emerging -- Cyber Incubator
Small -- Charm City Circulator
Medium -- Marlin Steel Wire Products
Large -- TBB Global Logistics Inc.
Blue Chip -- Kaiser Permanente of the Mid-Atlantic States
Technology Innovator
Emerging -- Unbound Concepts Inc.
Small -- CSA Medical Inc.
Medium -- Mind Over Machines Inc.
Large -- SURVICE Engineering Company
Other honors for Marlin Steel during the past year include being ranked on the Inc. magazine "5000" list as the 162nd fastest growing private manufacturing company in America and being one of three U.S. winners of the Precision Metalforming Pioneer from the Precision Metalforming Association and The Hitachi Foundation.