Choose Your Office Desk
With so many options to choose from, how is it possible to find the right desk? First, we need to think about which desk is more suitable for your work style.
What do you do for work? While searching through the following, also take into account your work habits. Are you a messy worker? Creative? Or well organized?
Computer Worker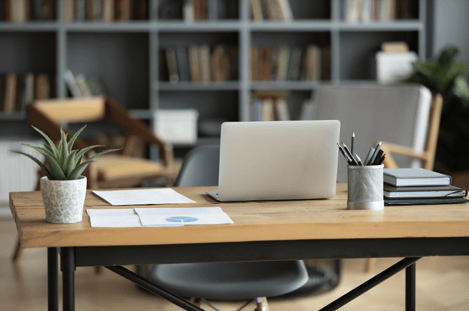 You will want to get an office desk specifically for computer work. It doesn't have to be fancy, just something to get the work done.
At-home Worker
You don't want clutter in your home. A desk that has many drawers to hold all your paperwork and other work-related items to keep everything organized might be suitable for your home.
Paperwork
Having a place to organize all your paperwork would be nice right? So why not get a desk that allows you to organize all your work while staying tidy.
Computer Work, Paperwork, and Meetings
You may want to get an office desk that can do it all - enough space for a computer and some drawers for a good organization will enhance your professionalism for those important meetings.
Not Enough Space
Not all rooms are created equal, especially in size. If you have a small workspace, you may want to invest in a small desk that saves space while also being able to keep you organized and orderly.
Desk Surface
Veneer or Wood Top
The most sophisticated choice in desks, veneer is a wood surface containing wood glue to an interior base. These types of desks are more expensive because of their appealing appearance. These desks are also considered more sensitive. Don't use a veneer or wood top desk if you are doing rough or heavy work.
Laminate
It's the most popular choice because it is more affordable and can withstand more than a pure wood or veneer desk. There are also more choices in colors and wood grain patterns.
Metal
This highly durable desk is mostly used by those who work in mechanics, woodworking, or similar professions. When you need a desk that will handle demanding jobs, this is the type you want to consider.
All Desks Need Cable Management: Trust Marlin Steel for High Quality Wire Organizer Solutions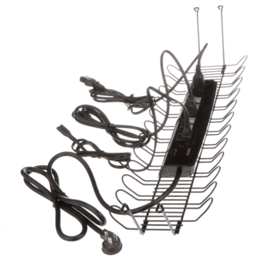 Whatever industry you're in or whatever profession you hold, your desk will inevitably need a cable management solution. Especially if you have any type of computer, printer, or other wired devices that would live on your desk. Marlin Steel produces wire under-desk cable management products that will keep your workspace looking tidy. Completely made in America, they are of top-quality and can be rapidly delivered to your business. Take a look through our wire cable management products here or contact us to place your order.
Patent US 9, 022, 329 applies to all Cable Corral products.