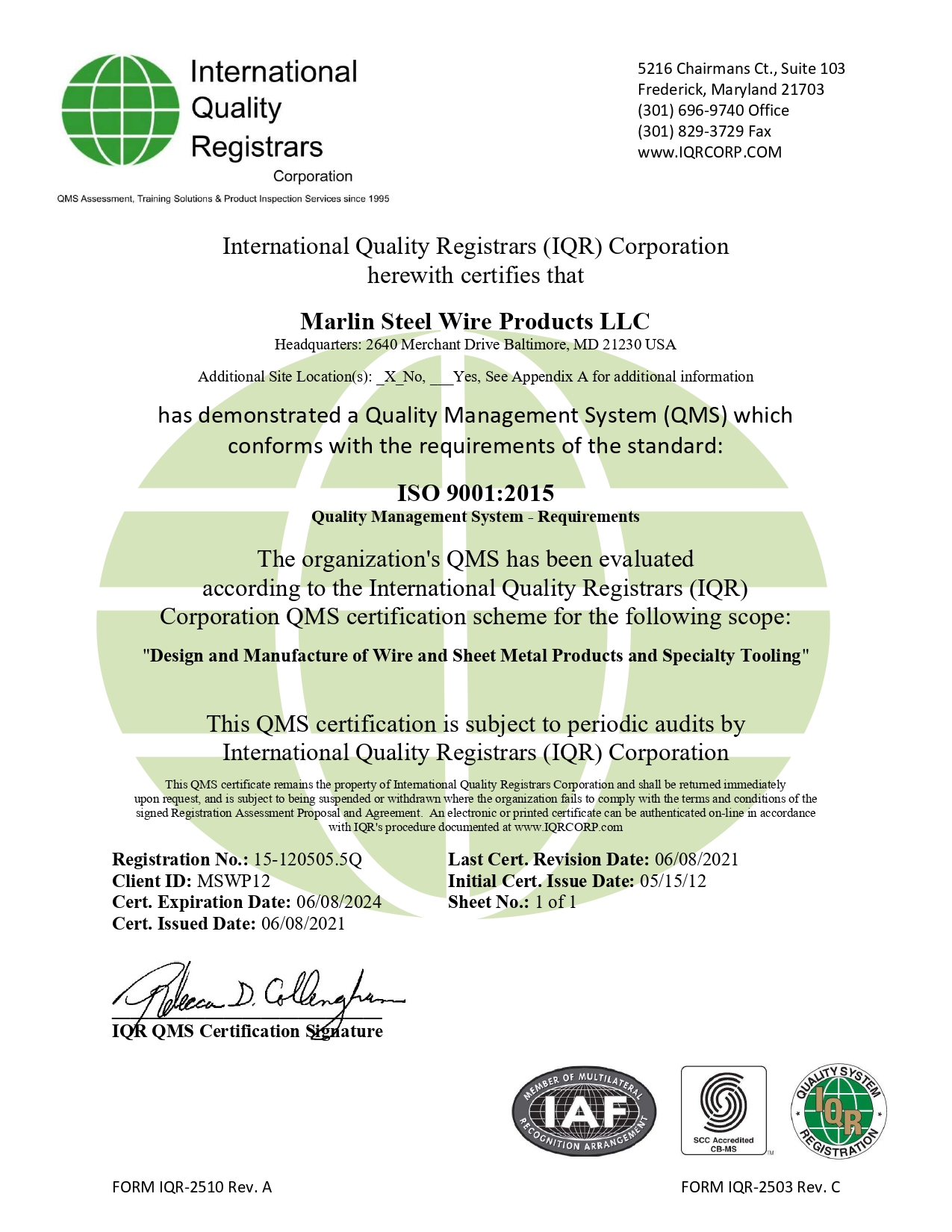 View ISO 9001 Certification
The Marlin Steel Wire Products' management team is proud to be part of a company that works diligently to create processes that help consistently improve quality, safety, and efficiency throughout our Baltimore, Maryland factory.
Every day, Marlin's engineers work to improve product designs and manufacturing workflows to eliminate inefficiencies and waste. Safety committee teams consisting of front-line workers gather regularly to discuss safety issues that they've seen and create solutions based on practical knowledge.
Recently, Marlin's quality management system (QMS) was evaluated by the International Quality Registrars (IQR) Corporation. In the evaluation, Marlin Steel earned an ISO 9001:2015 certificate from IQR Corporation for the "Design and Manufacture of Wire and Sheet Metal Products and Specialty Tooling."
Why the ISO 9001 Certification Matters
The ISO 9001:2015 standard is specifically meant to establish the criteria needed for a company's quality management system—i.e. the way that the organization ensures that it can consistently provide quality products/services that meet any applicable regulatory standards.
As noted on the ISO website, "This standard is based on a number quality management principles including a strong customer focus, the motivation and implication of top management, the process approach and continual improvement."
This QMS appraisal and certification is meant to be industry and size agnostic—ISO 9001 can be applied to nearly any business regardless of size or what they do.
Following ISO 9001 standards helps businesses organize their processes so they can make continuous, steady improvements to their quality, efficiency, and other key performance metrics over time. This helps make the business more competitive than its non-ISO certified counterparts.
ISO 9001:2015 replaces the older ISO 9001:2008 standard that was scheduled to be rendered invalid as of September 2018.
Earning the ISO Certification
As an organization, Marlin Steel has a well-established quality management system for ensuring that every part the manufacturing team produces can meet the incredibly tight tolerances Marlin's customers demand. On top of that, the management team prides itself on providing Marlin's customers with prompt and professional service.
To enable high-quality production and service, Marlin Steel uses several different tools in its QMS:
Finite Element Analysis. EVERY custom metal form design that Marlin produces is put through a series of physics simulation software tests before any assembly takes place. This helps to identify critical design flaws in a design without having to waste time and materials on a physical prototype.


Big, Hairy, Aggressive Goals and Rewards. The BHAGs (Big, Hairy, Aggressive Goals) system challenges employees to continually increase their productivity with aggressive, but achievable, production targets that keep them on their toes. Meeting these weekly goals results in a pay bonus for the next paycheck, which keeps employees constantly motivated to improve.


The Employee Skills Matrix. Marlin Steel has a giant chart that lists all of the skills that the company needs to fill, and which employees have them. This employee skills matrix encourages employees to compete to see who can earn the most skill certifications, and employees who learn new skills earn a permanent pay boost based on the rarity and difficulty of the skills they learn. This keeps employees constantly learning new skills that help make them better at what they do.


Factory Automation. Marlin Steel has invested heavily in advanced factory automation such as wire bending robots and MFDC welding machines to ensure that every basket Marlin makes is able to meet incredibly tight parts tolerances. Since machines don't get tired, bored, or injured like manual laborers, they can maintain a breakneck production pace without sacrificing part quality—and Marlin's production team can focus on optimizing production workflows and part designs.
The Marlin Steel team is proud to be an ISO 9001:2015-certified organization, and looks forward to another 50 years of top-quality "Made in America" manufacturing!
Want to learn more about how Marlin Steel can make the ideal custom metal forms for your manufacturing application? Contact us today.