Keep your aerospace components safe from drops, bumps, and scratches during production, storage, or on-site transit with superior material handling equipment. At Marlin Steel, we provide a wide range of standard and custom solutions.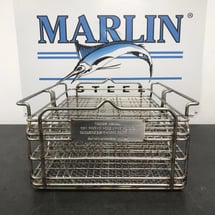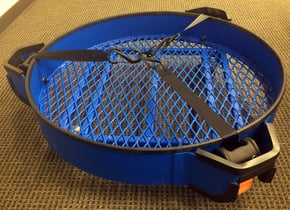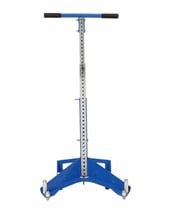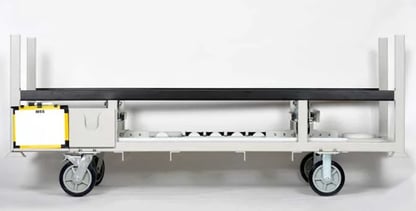 Premium Aerospace Material-Handling Solutions
With aerospace components and materials, failure and compromise aren't options. That's why the team at Marlin Steel provides premium services designed around our core tenets of quality and reliability. With the right material-handling services and solutions, we can execute the following:
Protect Parts:

Reduce damage to in-progress parts with proper handling and care. This reduces the risk of parts being broken and failing quality control measures, ultimately reducing scrap and labor waste.
Improve Safety:

Aerospace components have sharp edges, potentially toxic materials, and heavy weights. Operators and technicians can suffer injuries during accidental or through repetitive strain and exposure. Proper material-handling processes will keep them safe and reduce the risk of costly injury.
Increase Quality:

Eliminate the slight errors, damage, and miscommunications that come from unorganized or unstandardized material handling protocols. The right handling solutions will increase individual product quality by keeping them safe during every stage of production.
Increase Productivity:

By reducing waste, increasing safety, and adding standardization, our material-handling equipment solutions can expedite processing and production. This will enable your facility to take on more orders with confidence.
Our Products
Marlin Steel provides aerospace industry clients with a wide range of different components and comprehensive solutions for material handling. Our equipment includes the following: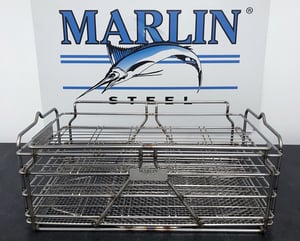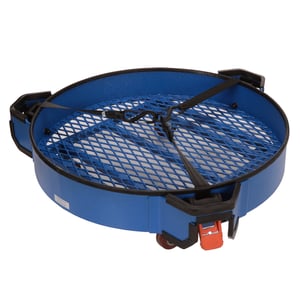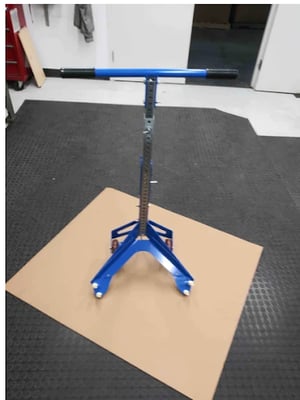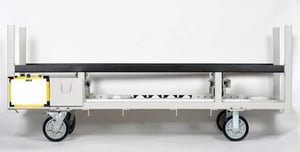 Choose between over 200 different styles of vane and blade carriers built for long-lasting performance. Our carriers are incredibly versatile, and they can work with your existing engine systems from CFM, GE Aviation, Pratt & Whitney, and Rolls Royce. Each product is built to last with well-fastened parts that prevent metal-on-metal contact. The carriers can use hoist hooks for different transport and dipping stages. They also enable efficiency through stackable design and easier lot tracking.
Our wheeled circular floats can safely transport aerospace engines in trucks, across facilities, or at a worksite. The float has wheels and a 30-pound pull ratio for safe employee handling with minimal strain. Each float also has hooks and ratchet straps to hold the engine in place. Protect the engine the entire way with the float's neoprene rim, bumper, and coated surface that prevents metal-on-metal contact and bumps. USA Patent # 10,286,943
European Patent Application # 19 170 823.9
To move circular floats and other systems with minimal strain, employees can use our pusher solutions. Each pusher comes with an adjustable handle that can attach to floats for easy movement and direction control.
Aerospace engine shafts are fragile, heavy, and hard to move. But our shaft carts are precisely designed to minimize the risk of damage during transit between storage and maintenance areas of your facility. Each cart has a hefty, durable frame, multiple compartments and holding options for all of the parts you need to transport, and ratchet straps precisely placed to ensure safe shaft transportation.
USA Patent # 16/739,213
The Benefits of Stainless Steel for Aerospace Material Handling Applications
Aerospace components must be stored in safe, stable conditions to minimize the risk of any damage that can threaten safe operations in the future. They also require stable transportation and material handling equipment so they can move across different points of a facility without being broken. Marlin Steel's equipment solutions are built from stainless steel for rugged, long-term durability. Stainless steel is strong, relatively light, and requires minimal maintenance, making it the right material for the job. We also outfit our carrying solutions with bumpers, soft coverings, and coatings to protect equipment from metal-on-metal contact.
---
Marlin Steel, Quality You Can Trust
The team at Marlin Steel is committed to creating high-quality solutions for our clients' aerospace material-handling equipment needs, whether you need standard products or custom solutions. Our staff has years of experience providing in-depth, highly technical support, and our company is ISO:9001-2015 certified as part of our commitment to quality control. Our products are designed and tested with the latest analysis software, and we use testing processes like non-destructive testing (NDT) and finite element analysis (FEA) to ensure every product meets our standards.
Contact Our Experts for Your Aerospace Equipment Material Handling Needs
If you need better equipment handling solutions to keep your aerospace components safe during onsite storage and transit to maintenance spaces, Marlin Steel is here to help. Contact us today to learn more or to request a quote.