During the pandemic, the world experienced the downside of globalization and its effects on manufacturing. Shipping delays, rising costs, and supply chain nightmares created a variety of product shortages, highlighting the problem with relying on overseas manufacturing. Many companies were already in the process of reshoring their operations and partnering with domestic production facilities; in the wake of COVID-19, more and more companies are doing so.
At Marlin Steel, we're proud to share how reshoring has strengthened our company and created jobs in our community. We were recently featured in the Baltimore Business Journal, and our President, Drew Greenblatt, was a keynote speaker at WTCI's "Is Globalization Dead or Alive?" event. You can watch the event on the video below. Due to Marlin Steel's efforts to expand U.S.-based manufacturing, we were also featured in an article by NPR.
Baltimore Business Journal on Reshoring's Effect on Marlin Steel's Business
Marlin Steel is a U.S. manufacturer established in Brooklyn, New York, and currently based in Baltimore. We've grown considerably in the last few years and contributed to the strength of the local economy as a result of the reshoring initiative, as explained in this Baltimore Business Journal article:
The shift from China to the United States — dubbed "reshoring" — has helped Marlin Steel Wire Products, a maker of custom-engineered products of steel wire and sheet metal for the aerospace, defense, medical and automotive industries — reach four years of 20% average revenue growth. The Baltimore company expects to hit over $12 million in revenue this year, and possibly $14 million if it snags a new client that currently buys from China, CEO Drew Greenblatt said.
Last year, Marlin Steel Wire acquired Madsen Wire, of Orland, Indiana, to meet the growing demand. Greenblatt said the merger would allow the companies to take advantage of bigger jobs returning to the U.S. from China.
Marlin Steel employs 40 people in Baltimore and the combined company now has nearly 100 employees.
"It's a blessing the reshoring," Greenblatt said.
In the NPR article, Greenblatt discusses expanding manufacturing operations in the United States through their acquisition of Madsen Steel Wire. The article examines how in the last year U.S. factories have rebounded from the pandemic as a strong point in the economy by creating 467,000 jobs.
Marlin Steel has contributed to this success by expanding operations in both Marlin Steel and Madsen Steel Wire. Adding new employees, new technology, and new amenities for employees has helped bolster business and attract employees to work for the company.
What is Reshoring? And What is Globalization?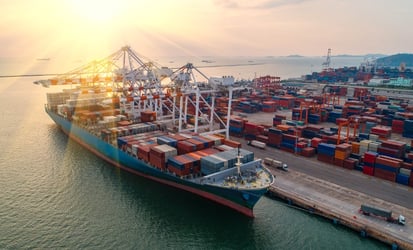 Google defines globalization simply as "...the process by which businesses or other organizations develop international influence or start operating on an international scale." This includes the offshore manufacturing of products.
Reshoring is the practice of bringing manufacturing back to the United States. While offshoring was once considered the best business move due to lower labor costs in other countries, reshoring manufacturing has been shown to make up for that with a wide range of benefits:
Strengthens the local economy by creating jobs in the community
Reduces unemployment
Reduces lead times
Reduces your carbon footprint with reduced shipping emissions
Simplifies logistics and transportation, reducing the risk of lost or damaged products
Helps balance the trade deficit
Gives companies more control over production
Keeps engineering and prototyping close to the client for quicker turnaround
Allows employees to work under U.S. standards for safety and environmental responsibility
Reduces the risk of misunderstandings and delays due to cultural, communication, or time zone differences
How Does Reshoring Work? And How Can It Play Into Globalization?
Reshoring your operations doesn't mean you can't maintain your status as a global company. Production globalization is the offshoring of your manufacturing, while market globalization is the sales and influence of your product outside the United States. Even with domestic production, your global market reach can expand.
The labor and production costs of reshoring pale in comparison to the many benefits—which include cost savings in other areas, like shipping, taxes, and more. It's important to carefully plan your reshoring process for a smooth transition that allows you to benefit from the change with minimal disruption.
Marlin Steel: Made in the USA
At Marlin Steel, we are a global leader in the production of superior wire products - completely made in the U.S. We prioritize quality assurance, timely manufacturing, and rapid delivery while maintaining a safe working environment for our valued employees, 20% of whom are chemical and mechanical engineers. Since 1968, we've specialized in the production of custom metal forms for clients in a wide range of industries, including medical, automotive, food processing, and more. Manufacturing is a rich part of this country's history—and its future—and we're proud to be a part of it. Contact us to learn more about our capabilities, the benefits of reshoring, and what we can do for you.