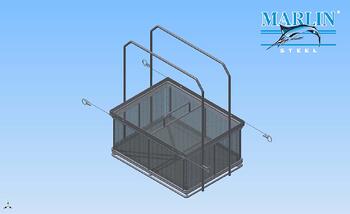 Marlin Steel works on many different basket designs each year. With each design, there are different design challenges and requirements.
Today, we wanted to talk about an electropolished wire mesh basket with a lid.
The basket in question? Wire Mesh Stainless Steel Basket #01983001.
Design Features of This Basket
This particular basket is designed with a large, open base. At 17.25" long, 13" wide, and 7" deep, with no internal partitions or other obstacles along the bottom of the basket, this custom metal basket can be used for a variety of parts and materials handling applications. This universal design allows the basket to either handle one or two very large parts, or many smaller parts so long as part-to-part abrasions aren't a factor.
The bottom and sides of the basket are covered in a fine wire mesh consisting of 0.047" thick wires spaced 0.08" apart. This allows the basket to hold very small parts without risk of allowing parts to fall through the gaps, while still allowing liquids and very fine particulates to drain away from the parts in the wash cycle.
The basket's frame is molded from 0.313" thick grade 304 stainless steel wires, with a wire mesh lid attached to a piece of sheet metal so that it can be secured to the basket with ease. This lid helps to further ensure that no parts are lost during the wash process or during handling in between wash/finish processes.
Attached to the basket's outer frame are two long lengths of 0.375" thick wires which allow for the basket to be held by hand with plenty of clearance, or for the basket to be suspended from a series of hooks during automated movement.
One important feature of this basket is that the wire mesh at the "bottom" of the basket is held slightly elevated from whatever surface the basket is resting on. This was done by adding a second base to the bottom of the basket, complete with extra support bars, two "V" shaped bars and a straight bar that runs across the width of the base. This elevated base keeps the thinner, more delicate wire mesh safe from the risk of contact with hot or caustic surfaces, and gives liquid solutions room to drain away from the mesh even when the basket is resting on a surface.
As a finishing touch for this basket, all of the basket's materials were electropolished to help remove any microscopic flaws so that the basket was left with a smooth, shiny finish and fewer chances for liquid or solid debris to cling to the basket after a wash process.
Manufacturing the Basket
Naturally, before this wire mesh basket could be shipped to the client, it had to be rigorously tested for any design flaws first. Using Autodesk software, the design specs for this basket were run through virtual tests for thousands of uses for the customer's particular wash/finish process. Throughout these tests, if the frame or the wire mesh of the basket deformed by so much as a human hair's width, the design would fail and Marlin Steel's engineers would set to work correcting for the flaw.
Once the basket's design was refined to the point where it would pass tests that were even more strenuous than the projected use of the basket, the design was approved and moved to production.
Thanks to Marlin Steel's investments in manufacturing automation, once the wire bending, welding, cutting, and other assorted robots were set for production, baskets could be made at incredible speed with laser-tight precision. When a manufacturing robot sets to work, it can keep working tirelessly all day without the need for breaks because it doesn't get tired, bored, or inattentive. This keeps accidents down to almost nothing, which is part of the reason why Marlin Steel's production floor hasn't had a lost-time incident in over half a decade.
With the benefit of factory automation, Marlin Steel was able to complete production of the client's order quickly, and ship that order to the client within a couple of weeks of beginning the design process for the basket. Not months, weeks. The whole process, from initial design to delivery, took less time for Marlin Steel to complete for this domestic order than the time a shipment from China typically spends waiting for available cargo space, let alone production, seaborne shipping, and customs delays.
To learn more about how an American manufacturer that uses advanced factory automation can deliver better results to you faster, contact Marlin Steel today.