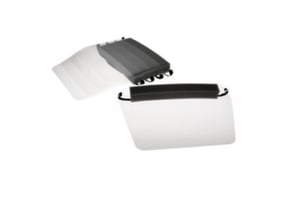 Healthcare workers and employees exposed to COVID-19 at their facilities need quality protection against transmission. Since COVID-19 is transmitted person by person mainly through respiratory droplets when a person with the virus coughs or sneezes, equipment such as face shields are an integral component of reducing the spread of the virus and keeping your employees safe.
Marlin Steel has addressed the need for PPE for COVID-19 protection and manufactures face shields that can be relied on for top quality protection when employees are most vulnerable. By stocking your facilities with the proper PPE face shields, your staff can be confident that they are being protected by top quality infectious disease control equipment.
How PPE Helps With Infectious Disease Control in Your Manufacturing Facility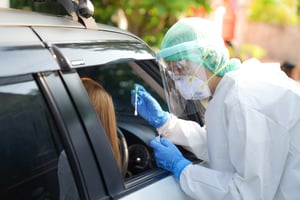 Personal protective equipment (PPE) has been the main barrier of protection for people in contact with contagious diseases, such as COVID-19. It has been a staple of protection for both healthcare personnel on the front lines of the COVID-19 pandemic, and everyday people returning back to open offices.
PPE for COVID-19 prevention maintains effective infectious disease control by creating a barrier between the wearer and the infected person. According to the CDC, COVID-19 is most likely to spread through infected droplets released when a person with the virus coughs, sneezes, or talks; when these droplets land in the noses or mouths of nearby people, whether from touching their face or from being coughed on, they can be inhaled into the lungs where they proliferate and spread infection throughout the body. A person can also be infected with the virus by touching a surface or material that has the virus on it and then touching their face. As a result, PPE recommended for COVID-19 protection includes gloves, N95 respirators, face shields, isolation gowns, ventilators, and eye protection, such as goggles.
Why You Need Face Shields in Your PPE Kit
The CDC recommends universal implementation of PPE to slow the spread of COVID-19 in most public areas, and especially in a work environment with infected patients. While basic PPE such as face masks are encouraged for people out in public, health care workers who are exposed to infected patients, or the potential for exposure, need more than one source of PPE. This may include eye and face protection, such as face shields. Any and all personal entering facilities with high risk of COVID-19 exposure should be wearing the appropriate PPE for their protection and those around them.
A face shield is a curved plastic panel that covers the wearer's face so that the eyes, nose, and mouth are protected from contaminated droplets and prevents the wearer from touching their face. Compared with face masks, face shields offer enhanced protection from infected fluids since they extend from the forehead and extend past the chin.
With face shields, healthcare faculty and staff can continue to do their lifesaving work while being reassured of their own safety. A 2014 study testing the efficacy of face shields against contamination saw the PPE significantly reduce the risk of contamination to infected particles. When tested against an aerosol from a foot and a half away, the field shield reduced contamination after a cough by 96% and surface contamination of a respirator by 97%. When compared to other infectious disease control equipment, face shields stand out as prime protection equipment against respiratory infection.
Protect Your Employees with Marlin Steel's Infectious Disease Control Face Shields!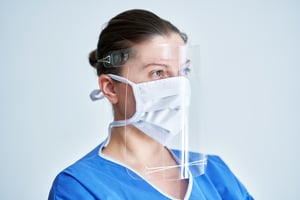 Provide your staff with the top quality protection they need with the help of Marlin Steel's quality made face fields. Marlin Steel has engineered face shields that can be relied on for safety and able to be worn for long hours. Face shields are built with an elastic attachment and foam forehead cushion for easy accessibility and comfort for wearers. The plastic "spit shield" is anti-fog to prevent any moisture from inhibiting first responders from their work and
Marlin Steel's face shields and goggles are built for easy sanitation. The face shield's "spit shield" protects the face from infected droplets and is designed to be disposed of and replaced to ensure sterility and protection for wearers.
Made in the U.S.A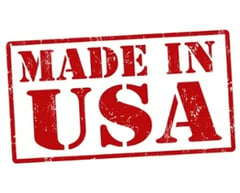 Marlin Steel's infectious disease control products are all designed and manufactured in the United States. Purchasing American-made products not only supports American manufacturing, but also ensures you're receiving the highest quality PPE for coronavirus protection.
Healthcare workers need to be confident that their products can be relied on to deliver consistent protection as they continue their life saving work. They can trust that the Marlin Steel PPE equipment is the finest in the industry and precisely designed for their protection in mind.
Same-Day Shipping
All of Marlin Steel's PPE face shields are manufactured in the United States. This means you're not only choosing the highest quality product, but also receiving it as quickly as possible. Face shields can be shipped out the same day, which means your employees can start using Marlin's face shields within hours of your order instead of waiting for overseas shipping deliveries.
Besides face shields, Marlin Steel's engineers design and manufacture other PPE for coronavirus protection, such as ventilator components and custom stainless steel test tube racks for viral testing. These can be readily available for hospitals, labs, and testing kit manufacturers.
If you're looking to provide your facility with top quality PPE for COVID-19 protection, contact Marlin Steel today. Marlin's engineering team has had years of experience in crafting custom stainless steel wire forms for infectious disease control and medical applications, and they can custom design products for your specific requirements in mind.