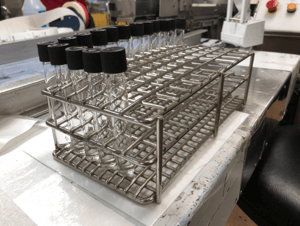 In response to the increasing number of verified COVID-19 cases, Marlin Steel has stepped up to help the pharmaceutical and medical industries with a new product to assist with viral testing: stainless steel test tube racks.
These test tube racks, as highlighted in the Washington Post, were made possible by our team's diligence and quick turnaround. We raced the clock to fill an emergency test tube rack order and get these critical products manufactured and shipped to a large healthcare provider. They will be used to expedite testing, which will help combat the spread of COVID-19 and save lives.
Marlin Steel's Response to COVID-19 So Far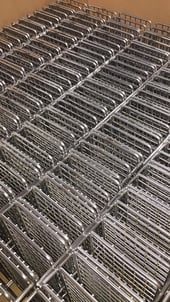 After getting a huge emergency order at 6:15pm on Friday night, March 20th, for test tube racks—racks never before designed by Marlin Steel engineers—we asked our hardworking staff (who had already worked between 40 and 60 hours that week), to volunteer to stay late and work over the weekend so we could ship these products to healthcare providers and save lives.
Our amazing team finished by Sunday at 1:45pm. We were able to ship the test tube racks 1,100 miles to our client's facility by 8:00am on Monday, where they will be used to expedite testing and help combat the spread of COVID-19.
Marlin is taking the current state of affairs very seriously and has prioritized contributing to the pandemic response in any way possible. Our high quality products, including ventilator components, and our stainless steel test tube racks, are available for hospitals, labs, and testing kit manufacturers quickly and reliably.
Why Test Tube Racks Are Necessary
Test tube racks are laboratory equipment used to hold multiple test tubes upright at the same time. Used when different solutions are worked on simultaneously, they provide protective storage for test tubes, increased safety to scientists and doctors, and improved ease of transport. Stainless steel racks are most effective as they are non-corrosive to bodily fluids, sterile, and can hold test tubes during autoclave sterilization processes without becoming damaged, unlike wood or aluminum racks.
During this period of increased time pressure and demand for COVID-19 testing, test tube racks are very important in providing efficient and safe environments for researchers to work in without risk of contamination or broken test tubes while developing COVID-19 test kits.
How Marlin's Test Tube Racks Help
Marlin Steel has taken to manufacturing stainless steel test tube racks by clinics, labs, hospitals, COVID-19 test kit manufacturers, and other organizations on the front lines combatting the pandemic.
Made in the USA
Marlin Steel is an American manufacturing company, which means all of our stainless steel products are made in the USA. This means there is no need for international shipping or delivery from foreign countries. Once our test tube holders have been produced, they can be immediately transported to hospitals, clinics, and other clients that need them as soon as possible. There are fewer obstacles, such as security and customs checks, that slow down delivery.
Made with High-Quality Steel
We use high quality, 316 stainless steel to create our test tube racks . This means that they're durable and corrosion-resistant. 316 steel is adverse to wear from chemicals, such as those that may be used during testing, studying, or creating a vaccine for COVID-19. Its strength also allows for frequent use without the natural finish being worn down. Stainless steel is inherently sterile as well, making it ideal for pharmaceutical and medical environments.
Sustainable
Stainless steel test tube racks can be cleaned via several different sterilization methods. The American-made steel can handle autoclave practices, where the racks are put into an autoclave and exposed to high temperatures and steam that kills microorganisms. It can also be sterilized with ethylene oxide.
Being able to withstand different means of cleaning and sterilization means that they can be reused again quickly in rotation, making them more sustainable and efficient than other means of holding test tubes.