In the manufacturing industry, there are, no pun intended, a lot of moving parts. The goal of any successful business within that sector is to keep those parts moving, and moving efficiently, so as to ensure processes are performing at capacity to meet demand. Even the slightest glitch has the potential to throw the proverbial wrench in the works. It's why the production of stainless steel stackable wire baskets first requires rigorous design and testing prior to production. The goal is to ensure everything on the factory floor keeps moving.

That means that during the design process, engineers, like those at Marlin Steel, have to take into account how the wire basket will be used, how it will need to move effortlessly when needed while holding parts when needed as well, and how to ensure longevity. It's why we test before we even hit production, and why our production standards are set so high.



Quick Links



What is Tight Tolerance?
Tight tolerance is the deviation (+/- .002 inches) from design allowable in production to ensure that all parts perform as expected. When moving parts are involved, tight tolerance provides a very small measure of difference from design to production that will not impact a part's required fit or cause its failure.

This measurement is key in manufacturing processes that require precision, where one flaw in design can cause delays or failure impeding the production process. Ultimately, if an item fails to adhere to precise design specification, it can cost time, and money.
How Does Tight Tolerance Affect Part Design?
One of the most important parts of production is the design phase. It's the opportunity to ensure that measurements are correct, that parts meet expectations, and can perform as desired. It's essentially that a product, like a stackable wire basket, be designed in such a way that it can be consistently manufactured to meet quality standards.

When considering tight tolerance, designers will need to consider whether that tolerance is for performance, appearance, longevity, or a combination of factors. Further, the size of the part will impact tight tolerance as well. Larger parts are more difficult to hold so tight, but smaller parts of the larger piece may be maneuvered.

Finally, designers will have to consider the use and environmental conditions that might impact the part as well. It's one of the reasons stainless steel can be so effective here. Unlike plastic, it's not as likely to be impacted by its exposure to heat or chemicals, but it is also less forgiving. Therefore, the design of the product must be precise and thoroughly tested before being put into production.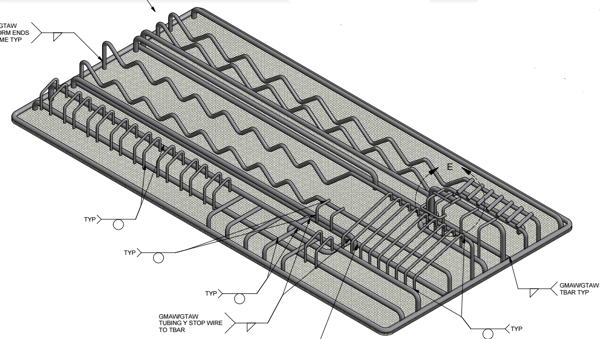 How to Choose the Best Stackable Wire Baskets to Hold Tight Tolerance Parts
Perhaps the most important part of choosing the best stackable stainless steel wire baskets is understanding their use and their path through your facility. While their function is fundamental, knowing who uses them, how they're transported, and what parts or machines they work and interact with is crucial to understanding what must go into the design phase.
While wire baskets are not always the best option for tight tolerance parts, there are certain situations for which you'd still want to choose wire or a hybrid sheet metal basket solution.
1. Fragile/Cosmetic Parts
Because wire is round, some precision parts do not scratch as easily and are held tight so the parts do not drift or fall out of the rack while moving through a factory. In fact, fewer parts go missing when riding on a wire basket. This is particularly important for precision parts that might have performance issues if compromised.
2. Fluid Egress
When using the wire baskets for washing, cleaning, sanitizing, or sterilizing tight tolerance parts, they're the best choice to ensure all fluids and liquids are drained quickly post process. In contrast, sheet metal baskets retain fluids longer which slows down the draining process and delays production time.
3. Hybrid Solutions
Marlin Steel excels at custom designs, especially those that might need a hybrid of sheet metal and wire forming. Because medium frequency welders are used, the wire or sheet metal baskets for high tolerance parts are not as susceptible to deformation as traditionally welded wire baskets. In fact, medium frequency welded baskets have very high heat applied to the weld in a very short time- 1/30th as long as typical welding- as a result there is less deformation and fewer sharp edges because the weld happens so quickly.
Why Use Marlin Precision Baskets?
When you choose the manufacturer for your stainless steel stackable wire baskets, you want to go with a company who uses the highest quality materials, has a team of qualified and experienced engineers, tests exhaustively before moving into production and produces a hyper precise wire basket that is robot friendly.

As the manufacturing industry continues to shift to more automated processes, the need for proper care, cleaning, and maintenance of parts will matter even more. Precise designs that move seamlessly from one function to the next, regardless of whose hands are on them or how they're moved, are essential. The concept that parts can be tossed in a bin and damage, scratches or dents are inconsequential will be outdated as more sensitive machines will respond to even the smallest material flaws.

It's why Marlin Steel is on the cutting edge of stainless steel products, including our recently patented stackable wire basket for precision components (USA Patent Application #16/406,090). Not only do we understand your current needs, engage in vigorous pre-production testing and analysis, but we also understand where the future is headed and want to make sure our products are long-lasting for your needs.

Get in touch with our team today to talk about your custom wire basket needs!