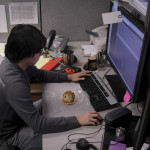 As the economy, and more specifically, the manufacturing industry continue to recover in the U.S., the need for skilled workers will also increase. At this time, many different manufacturers are having difficulty finding people with the skills that they need to fill critical job openings.
In a recent Fortune.com article, it was stated that there were roughly "237,000 job openings" in the U.S. for manufacturing positions. The shortage of skilled manufacturing labor may get even worse soon. Why? As the Fortune.com article points out, nearly "80% of the current manufacturing workforce is between the ages of 45 and 65." With the majority of the workforce approaching retirement age, the "brain drain" that the Fortune article warns of seems to be more threatening than ever.
With this perfect storm of conditions, it would seem that now is the perfect time to enter the manufacturing workforce. However, to be successful in a manufacturing career takes more than just having the right skills (though that does help), it takes having the right stuff.
So, what makes a top-notch manufacturing worker? What is the "right stuff?" There are a lot of things that can make a skilled engineer either perfect for a given job or an absolutely terrible fit.
The Right Stuff
First, and foremost, as with almost any career, the right attitude can go a long way towards helping you succeed in manufacturing. Being able to show up for work with a positive demeanor and make every effort to perform your best can make the difference between slogging through a job and missing or barely meeting performance goals, and having a long, successful career.
Next, being punctual and able to support your team is a critical part of success in manufacturing. The team is relying on your ability to be there and ready to work on time in order to meet production goals and keep clients satisfied. This goes beyond simply being physically present; it means showing up ready to start working. Arriving to work clear-headed and wide awake helps to prevent accidents and ensures that you're able to work at your best.
Another important trait to have is the ability to pay attention to details. Being meticulous and exercising care is vital to crafting top-quality products that are free of errors. Without a high level of care in the manufacture of a product, errors begin to crop up. By being aware of the details for manufacturing jobs, you can spot inconsistencies and rectify them before they affect your final product. When you're assembling components with tolerances of a micrometer, it pays to keep an eye out for the finer details.
For a job in manufacturing, creativity is an often-overlooked quality that can be helpful. In the best manufacturing companies, employee input carries weight in the design of a product. For example, if a minor design change could allow for a wire basket to hold 12 parts instead of 9, make it easier to load/unload parts, or improve the ability of the basket to withstand a given wash process, the engineer making that basket should consider such improvements and bring them to the attention of others. Even on a job where a specific design is given, the ability to think of such improvements and make suggestions can help create a better product.
The Right Skills
While we've been talking about how the right attitude is important to being successful in a manufacturing career, that doesn't mean you should neglect your basic technical skills. These skills are still an important part of actually being able to perform a manufacturing job, after all.
For most manufacturing jobs, basic math skills are indispensable. Before applying for a job where you'll be tasked with designing lots of complex parts, you should know the definitions of basic mathematical terms such as radius, diameter, tangent, sine, cosine, etc. Trigonometry and algebra skills are a definite plus, as many manufacturing jobs involve calculating angles to be used and total dimensions of a final product.
As many manufacturing jobs now involve the use of advanced automation such as manufacturing robots, having computer skills is becoming more and more important. Being able to program and maintain manufacturing robots can be very useful for attracting the attention of potential employers who use lots of workplace automation.
Beyond math and computer skills, Basic English skills are also important. When you're designing a part for a client, you will be expected to communicate clearly with said client and with the other members of your team through written communication such as intra-office memos and emails. Being able to communicate clearly in a manner that can be understood by others makes the design process smoother, and allows you to bring your most creative ideas to the table and make sure that they're given serious consideration.
With the right skills, attitude, and mannerisms, you can not only find a job in manufacturing, but excel in a long-term career with the right employer.