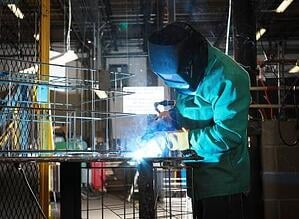 There are more uses for custom wire and sheet metal forms than parts washing and materials handling. While most of the orders Marlin gets are for stainless steel baskets, every now and again the manufacturing team is handed a different kind of challenge.
Such was the case when Marlin was asked to create the body for a specialized label printing machine for a client.
In this application, the point wasn't to hold parts safely through a process, but to keep the internal mechanisms of the machine itself safe. Additionally, these parts had to be easy to assemble and disassemble in case the machine needed servicing afterwards.
Integrating with an Existing Frame
For this application, the client already had a set design in mind for the sheet metal plates and frame of the device. The challenge here was to make sure that the sheet metal plates cut for the client would fit neatly in the frame.
By using automated sheet metal punches and laser cutters, ensuring consistent dimensions from one set of metal plates to the next was easy.
However, Marlin's manufacturing team also wanted to ensure that the machine could stand up to prolonged repeated use.
To this end, before the first piece of sheet metal was ever cut for this design, it was first subjected to rigorous virtual testing to reveal any points of structural weakness. During this testing, Autodesk virtual physics simulation software was used to study how the frame and the sheet metal plates would react to common-use stresses.
Any structural weaknesses were identified and eliminated prior to assembly by going over the issues with the client. Here, input from the client was vital because the design still had to fit the mechanisms of their label printing machinery as well as their overall form factor and function needs.
The Results
Working with just the design file for a frame and the internal mechanical components within, Marlin Steel's team was able to produce a set of sheet metal plates that fit the design of the dual-spool print label feeding device exactly. The precision of Marlin's CNC sheet metal forming equipment kept each part fitting a consistent margin of error.
This allowed the client to integrate the feeding device in their product label system quickly and avoid delays in their own production from having to wait on replacements for non-conforming parts.
Whether it's for a basket, or another custom metal forming application, Marlin's team is dedicated to creating a top-quality product with precision.