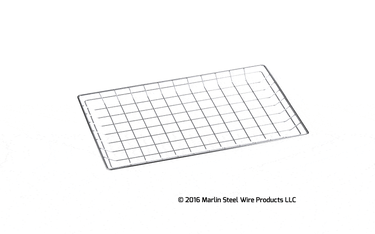 If you were having a medical implant inserted in your body, odds are you'd want it to be as sanitary as humanly possible. Medical implants have to meet incredibly strict sanitary standards for their production and storage. Contaminated implants can cause severe post-operation complications that put the patient's life at risk.
Considering the consequences of an unclean implant, it's only natural for any medical implant manufacturer to obsess over the sanitary conditions of their manufacturing process. From initial assembly to the final assembly/packaging, everything has to be perfect from a sanitary standpoint.
So, when a medical manufacturer was looking for a parts handling tray for their medical implants for femur assemblies, including cannulated screws, it was important to make sure that everything was just right.
Keeping it All Together
One of the biggest challenges for this job was that under NO circumstances was a part to be allowed to fall out of the tray and hit another surface. Yet, at the same time, each part had to be easy to access for handling in a precise layout.
The need for easy access precluded the use of a lid or total wire mesh enclosure since both of these structures would impede access. Instead, each tray would be designed to fit up to three units high inside of a separate catch basin designed to trap fallen parts.
This, along with the inclusion of handles, would help ensure that the trays would be easy to handle throughout the wash process and in between other processes.
Stacking for Efficiency
Handling a single tray of parts at a time would be an inefficient way to process these parts. To help maximize productivity, the tray design was made to be stackable while maintaining plenty of clearance between each layer of parts.
Stacking would allow more parts to be moved and processed simultaneously. Maintaining open area between each layer would help facilitate drying after the aqueous wash/sanitation process was completed.
Encasing for Sanitation

The capture bin for the trays served a dual purpose—during the wash process, it would capture fallen parts so they wouldn't hit the floor. Once finished, the bin would enclose the trays on all but two sides (top and front). This would limit the exposure of parts in the bins to potential contaminants, helping to ensure sanitary conditions.
Ensuring Chemical Resistance
By many manufacturing standards, the chemicals used in this medical company's parts cleaning/sterilization process were pretty mild. The parts and basket would be hosed down with a chemical bath containing fluorescent penetrant, dry powder penetrant, and water at room temperature for 15 minutes.
However, although these chemicals are minor by some standards, continuous prolonged exposure to water and chemical penetrant can adversely affect plain steel given enough time. So, to ensure that the trays would be able to withstand near-constant exposure, they were made of a stainless steel alloy.
The enhanced resistance of stainless steel keeps it from rusting after prolonged exposure to water—maintaining sanitary conditions for the parts held in the trays. Plain, untreated steel would quickly begin to form rust after just a few wash cycles.
The Results
By carefully considering the client's application and unique needs, Marlin's engineering team was able to craft a perfect parts handling solution to ensure strong productivity while maintaining sanitary conditions from start to finish.
Even better, Marlin was able to complete the entire basket order from initial design to final assembly and shipping in mere days—not weeks or months.
Need a custom solution for your medical manufacturing process ASAP? Contact Marlin Steel for a quick quote!