Marlin Steel makes custom metal baskets to fit any need, including the needs of the aerospace industry. For years, clients such as American Airlines, Delta, and United Airlines have relied on the precision engineering and quality of Marlin Steel's custom-crafted wire and sheet metal baskets for their parts and materials handling needs.
From ultrasonic parts washing baskets for extra-delicate parts that must have a flawless finish, to rough and rugged materials handling baskets for moving large objects from point A to point B, Marlin Steel has what it takes to meet the needs of the aerospace industry's toughest jobs.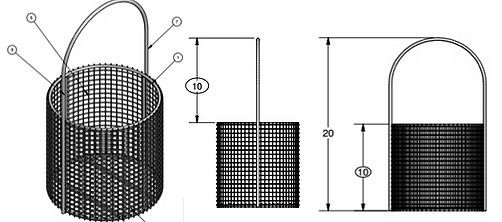 This material handling basket is used by American Airlines

This is an engine blade basket designed by Marlin Steel for Delta Airlines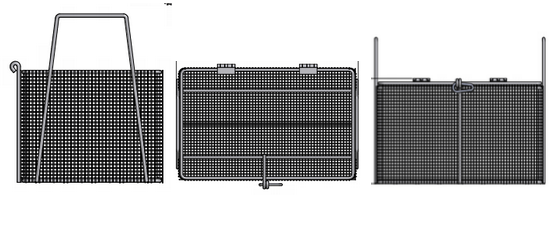 This material handling basket with a locking, hinged lid is used by United Airlines
The Tools to Get the Job Done
How does Marlin Steel ensure that every basket is made to your exacting needs and specifications? It all begins with over $4 million in robotic manufacturing equipment that is used in every phase of the manufacturing process. This equipment includes:
A Medium Frequency Direct Current Welder. One of only five in the world, and the only one outside of Germany, the Ideal MFDC welder can complete welds 30 times faster than a standard automated welder. Benefits include a massive reduction in heat stress deformities from the welding process, improving a welded basket's ability to consistently meet your tolerances.
Trumpf Laser Cutter. This device can cut steel that is up to 0.6" thick with a margin of error less than +/- 0.004" on any given cut. What's this mean for your parts baskets? It means laser tight precision, incredibly focused cuts to meet your needs, and the kind of consistency in cutting sheet metal that trumps manual methods.
Trumpf CNC Punch. For the jobs that are too heavy for the cutting laser alone, the Trumpf CNC punch has 190 dies for punching holes and embossments into sheet metal. With an automated sheet loader and the ability to change dies in as little as 0.9 seconds within a cartridge, the Trumpf CNC press allows for rapid production of parts and sheet metal forms for aviation equipment maintenance.
Lissmac SteelMaster Deburring Machine. For when your parts handling baskets need to have a flawless finish. This deburring machine processes both steel wire and sheet metal forms to remove the sharps, burrs, and other surface deformities that result in a substandard basket.
Combined with the Marlin Steel engineering team's years of experience in designing and building custom baskets, these marvels of factory automation allow Marlin Steel to deliver "quality, engineered quick" for companies involved in maintaining, repairing, or overhauling aircraft and their expensive, delicate parts.
When lives depend on the consistency and reliability of parts, you need the best materials handling baskets for the job, baskets that Marlin Steel provides with greater speed and consistency than cheap overseas competitors who rely only on manual labor that can't meet your exacting tolerances. If you'd like to see what Marlin Steel can do for your business, contact us here.