Basic Desk Organization
If you have tangled cables that lead to your desk, they can be a real headache. Adding cable management to a desk can help alleviate this stress. Not only will it be easier to look at, but the cables will be easier to manage individually.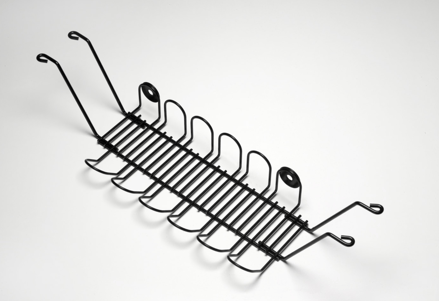 Here is one trick to having better cable management. The junction box is the place where all the power adapters are connected. This is the main point of contention for those who want to organize their cables a bit better. There are cable boxes for sale to place the junction box into.
The surge protector can also be installed in a cable box. The cable box can be flat and will hide the cables from view. The cables from the power adapters come out on one end to make them look less messy.
One problem with putting power adapters into one box may be that it could cause too much heat. Heat is an enemy of all electronic devices, so be sure to get a cable box that has some ventilation for heat to escape, like our cable corral products do.
Under-desk Cable Management Solutions
As mentioned above, the right cable organizer should be one that can neatly corral your cables into one place, avoid heat buildup, and last for as long as you need them to. That's where Marlin Steel's cable management products come in. Manufactured from all-American steel and made 100% in America, our products are durable and built to last. Being made of wire, they allow heat buildup to escape and disperse, which protects not only your devices, but also your home from a potential cause of fire.
We have a reputation for quick production, so your business can expect a fast delivery. We even have in-stock products for an even speedier delivery.
If you want to learn more or place an order, fill out our Contact form and get in touch with us today.
Patent US 9, 022, 329 applies to all Cable Corral products.