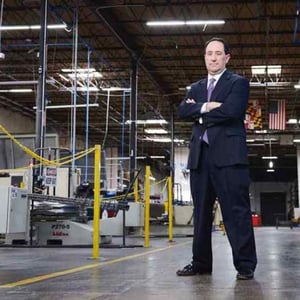 The 36th AME International Conference has gone virtual this year! Besides this big news, the CEO of Marlin Steel, Drew Greenblatt, will be headlining the pathway to Excellence Supply Chain Forum to focus on retooling the educational and industrial infrastructure as manufacturing rebuilds in the wake of the COVID-19 pandemic.
This exclusive forum will feature a facilitated discussion with industry leaders and manufacturing CEOs on ways to advance the North American domestic economy and take advantage of new manufacturing innovation to prepare for an industry 4.0 workforce.
Learn more and how to sign up for this virtual forum below!
What is the AME Conference?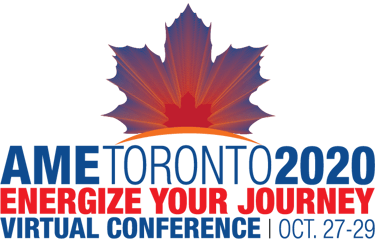 Source: https://www.ame.org/ame-toronto-2020
The Association for Manufacturing Excellence (AME) has hosted a conference for more than three decades, bringing together industry experts from across the globe to share, learn, and collaborate together. Past AME conferences included more than 1,500 participants from over 35 countries, with people representing all different sectors from aerospace and defense to pharmaceuticals and logistics, among others.
This year's AME Toronto 2020 conference has been moved to an all-virtual format to ensure safety and access to all participants. Now, participants can participate in SME from the convenience or comfort of your home or office.
There will be over forty hours of content within the course of the three days of the conference, including the Pathway to Excellence Supply Chain Forum panel. At the end of day two, participants are invited to a special forum featuring the expert voices of North American manufacturing leaders. This facilitated forum will cover how manufacturing companies can prepare to deal with future supply chain disruptions and shortages, as well as the importance of rebuilding home-based supply chains.
Pathway to Excellence Supply Chain Forum
This exclusive forum will discuss how North American industrial companies can rebuild and fortify their home-based supply chains in case of any future disruptions. The manufacturing industry was especially hit by the COVID-19 pandemic supply chain disruptions and shortages due to heavy offshoring in recent years. By committing to domestic supply chains, manufacturing businesses can avoid many of the problems witnessed by the pandemic.
Topics covered will include:
Advocacy for reshoring, nearshoring, and LeanShoring™
Emphasize focus on industry 4.0 innovations for workforces
Educational and training offerings to create a stronger workforce
And more!
The virtual panel will be held Wednesday, October 28 from 3:45pm - 4:45pm. For more information, learn more on the AME Conference website.
Meet the Speakers
The forum speakers will include Marlin Steel's president & owner, Drew Greenblatt, as well as other North American manufacturing industry leaders.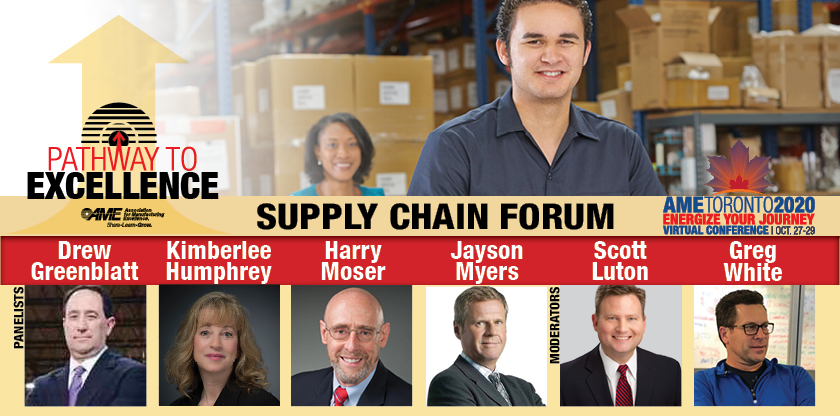 Source: https://www.ame.org/ame-toronto-2020
Drew Greenblatt, President & Owner, Marlin Steel
When Drew Greenblatt bought Marlin Steel in 1998, it was solely manufacturing bagel baskets. Since that humble beginning, he has grown revenue eightfold and is currently expanding its factory floor space by 53%. Marlin Steel has invested over $5.3 million in robotics to ensure both safety, speed, and quality.
Today, Marlin Steel imports material handling baskets, wire forms, and sheet metal fabrications from American-made steel and products to over forty countries. The Maryland-based Steel manufacturer has been ranked on Inc. magazine's Inc. 5000 list of fastest-growing private companies in the U.S., received the "Inner City 100" award by the Initiative for a Competitive Inner City (ICIC), and the Regional Employer of the Year from Baltimore City & Baltimore County.
Drew Greenblatt has testified to the U.S. Senate and U.S. Congress on topics including small business, taxation, regulations, trade policy, and techniques to grow the economy and has met with President Bush in the White House to discuss manufacturing policy. He currently sits on the Executive Board of the National Association of Manufacturers (NAM).
Kimberlee Humphrey, President & CEO, AME
Kimberlee Humphrey is the president and CEO of the Association for Manufacturing Excellence (AME). She has been a long-time proponent and practitioner of lean manufacturing and has held several leadership positions of supply chain, quality, and operational roles of increasing responsibilities for both large and small domestic and international companies in the automotive, business system, and public transit software solutions industries
In addition to founding a Baldrige-based consulting and training organization, Kimberlee Humphrey has also served as the executive director of the Virginia Conflict Resolution Center.
Harry Moser, Founder, Reshoring Initiative
Harry Moser founded the Reshoring Initiative to bring five million manufacturing jobs back to the U.S. after working for high-end machine tool supplier GF AgieCharmilles. Starting as president in 1985, he retired at the end of 2010 as chairman emeritus and focused his efforts Reshoring Initiative. Due to Reshoring Initiatives' success, Moser was inducted into Industry Week Manufacturing Hall of Fame in 2010 and was named Quality Magazine's 2012 Quality Professional of the Year and FAB Shop Magazine's Manufacturing Person of the Year.
An active participant in President Obama's 2012 Insourcing Forum at the White House, Moser won The Economist debate on outsourcing and offshoring, received the Manufacturing Leadership Council's Industry Advocacy Award in 2014, the Made in America 2019 Reshoring Award, and named to the Commerce Department Investment Advisory Council in August 2019.
Moser is seen on national TV and radio programs, among them Fox Business, MarketWatch, PRI, NPR, Manufacturing Talk Radio, and frequently quoted in the Wall Street Journal, New York Times, Forbes, Financial Times, New Yorker, Washington Post, and USA Today.
Jayson Myers, CEO, Next Generation Manufacturing Canada
An award-winning business economist who specializes in industrial and technological change, Jayson Myers is the CEO of Next Generation Manufacturing Canada, the not-for-profit corporation leading Canada's Advanced Manufacturing Supercluster, an initiative funded by the Canadian government that will leverage more than $500 million over the next three years in collaborative, industry-led projects aimed at building world-leading advanced manufacturing capabilities in Canada.
He previously served as president and CEO of Canada's largest industry and trade association, Canadian Manufacturers & Exporters, and headed the policy office for the Canadian Chamber of Commerce. A founding chair of the Canadian Manufacturing Coalition, vice-chair of Canada's National Roundtable on Skills, and vice-chair of the Ontario and Great Lakes Manufacturing Councils, Myers is currently a member of the advisory board of the World Manufacturing Forum and a board member of the Trillium Network for Advanced Manufacturing and the Macdonald Laurier Institute.
Widely recognized as one of the most influential policy advocates and champions for manufacturing in Canada, Jayson Myers is an advisor to both private and public sector leaders and has counseled Canadian prime ministers and premiers, as well as senior corporate executives and policymakers across the globe.
How You Can Sign Up for the AME Conference
Ready to sign up?
Get your virtual conference pass today for AME Toronto 2020 here!
By registering, you gain access to over forty hours of the best content on lean manufacturing anywhere in 2020, including keynotes, best-practice knowledge sharing from industry practitioners, virtual tours of Toronto-based facilities, networking, and more.
Are you already registered for the AME Toronto 2020 in-person conference? You can visit the conferences' already registered page to learn more!