Seafood processing requires the use of wire baskets and racks and carts to facilitate mussel and oyster processing, peeling operations for cod, salmon, and shellfish, and various other activities. Processing activities vary widely in the seafood sector, so many seafood businesses require custom wire baskets to meet the unique needs of their equipment and setup. Designing and manufacturing custom wire baskets for seafood processing requires an understanding of the features and metal materials needed to create food-safe solutions.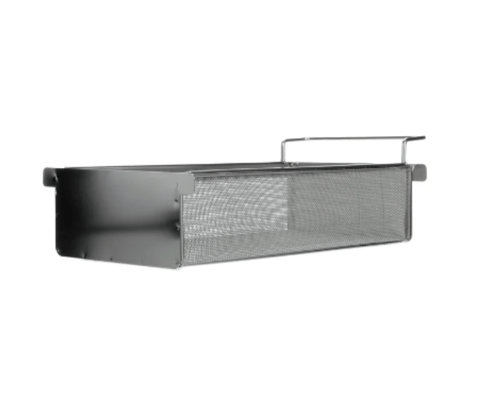 What Makes a Food-Safe Basket?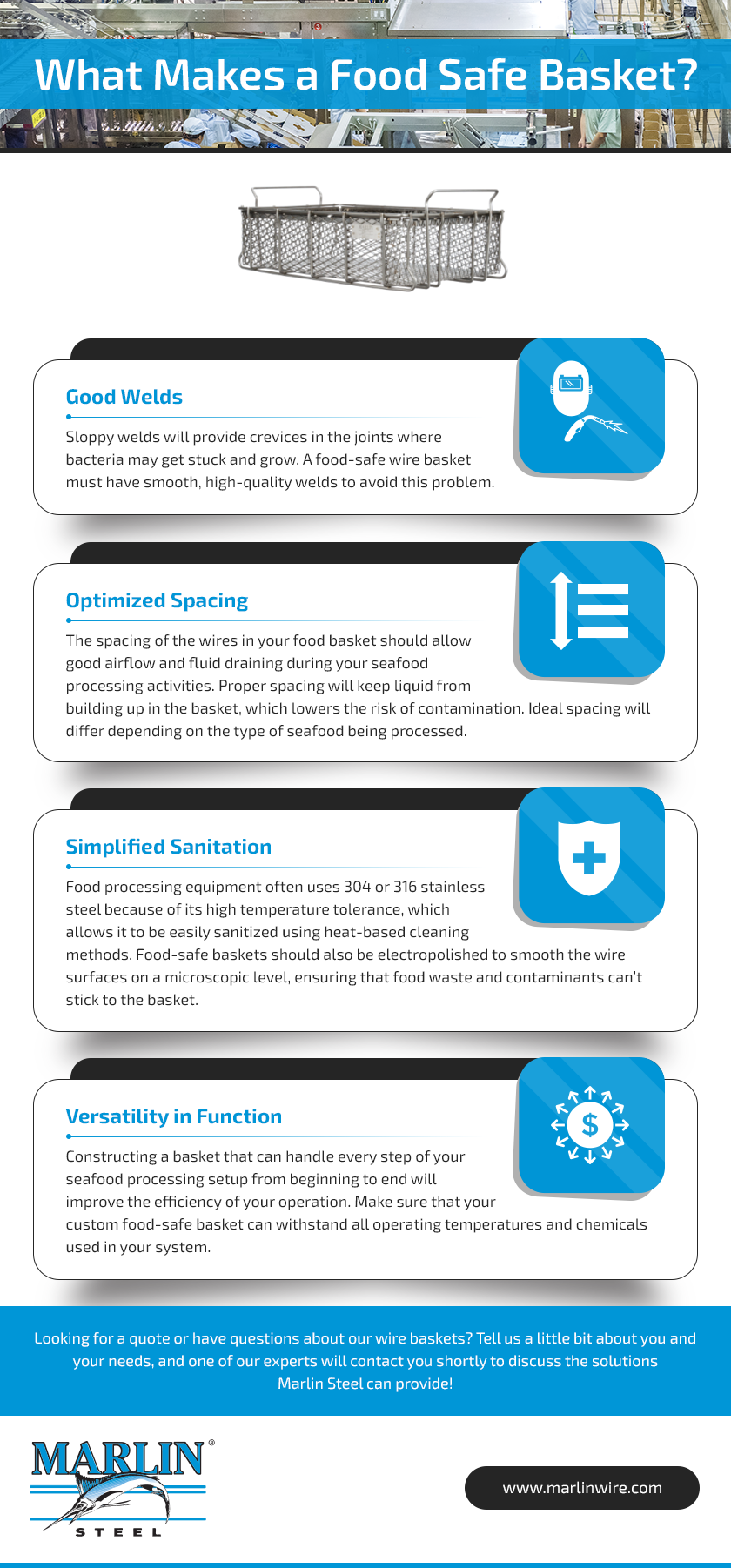 Wire baskets used in seafood processing must adhere to FDA standards for food-safe equipment. FDA guidelines for food-safe baskets typically cause manufacturers to lean toward the use of 304 or 316 stainless steel. Beyond regulatory compliance, a properly made custom wire basket should also improve the safety, speed, and cost-effectiveness of your seafood processing operation. Some of the other features of a good food-safe wire basket for seafood processing will include:
Good welds. Sloppy welds will provide crevices in the joints where bacteria may get stuck and grow. A food-safe wire basket must have smooth, high-quality welds to avoid this problem.
Optimized spacing. The spacing of the wires in your food basket should allow good airflow and fluid draining during your seafood processing activities. Proper spacing will keep liquid from building up in the basket, which lowers the risk of contamination. Ideal spacing will differ depending on the type of seafood being processed.
Simplified sanitation. Food processing equipment often uses 304 or 316 stainless steel because of its high temperature tolerance, which allows it to be easily sanitized using heat-based cleaning methods. Food-safe baskets should also be electropolished to smooth the wire surfaces on a microscopic level, ensuring that food waste and contaminants can't stick to the basket.
Versatility in function. Constructing a basket that can handle every step of your seafood processing setup from beginning to end will improve the efficiency of your operation. Make sure that your custom food-safe basket can withstand all operating temperatures and chemicals used in your system.
Stainless Steel Types Used in Food Processing
As mentioned above, stainless steel 304 and 316 are the most common alloys used in creating food-safe wire baskets.
304 stainless steel. Grade 304 is a popular high-performance stainless steel featuring high corrosion resistance and excellent durability but will rust when exposed to salt water over time. 304 grade is food safe. While 304 stainless steel offers a tensile strength of 621 MPa, this strength begins to decrease as the metal nears its melting point. The melting point for this alloy is around 2,550°F.
316 stainless steel. With good corrosion resistance will not rust with salt water exposure – perfect for marine application – pharmaceutical and medical grade material – designed to last the longest in the seafood industry and tensile strength of 579 MPa, Grade 316 stainless steel can handle operating temperatures up to 2,500°F (1,399°C) or more. 316 stainless has high concentrations of nickel and chromium, but also features molybdenum that improves resistances to chloride pitting, acids, alkalis, and saltwater.
Both types of stainless steel offer long-lasting performance and minimal wear in most seafood processing applications.
Key Benefits of Using a Marlin Steel Basket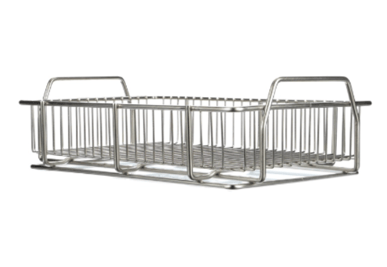 At Marlin Steel, we specialize in the design and fabrication of high-quality, customized stainless steel products for food and seafood processing and other various industries. We can engineer your stainless steel baskets to meet all FDA food-safe standards for food processing equipment while ensuring that the product will improve the safety and speed of your operation.
Solid welds excetud by our medium frequency welders that weld 30x faster than conventional ac welders so there is no time for the steel to melt causing a sharp part that can hurt your employees or puncture the seafood.
Our engineers stay updated on the latest developments in material science and manufacturing methodologies, allowing us to deliver cost-effective, high-quality baskets to our customers on every order. About 20% of our team consists of mechanical and chemical engineers.
We also prioritize safety in everything we do. Marlin Steel has gone thousands of consecutive days without a lost-time accident, Most recently over 1,350+ days with no safety incidents
To see how Marlin Steel's custom wire baskets can benefit your seafood processing operation, please check out our eBook: Marlin Steel Seafood Processing Guide to Baskets. Please don't hesitate to contact us with any additional questions.