Steel mesh baskets are widely used in various industries for filtration, straining, and material handling applications. However, choosing the right type of steel mesh for your basket can be a challenging task, especially if you are not familiar with the different types of mesh available.
At Marlin Steel Wire Products LLC, we offer a wide variety of wire mesh baskets to fit your specific application. Our options include but aren't limited to:
In this blog, we will discuss how to choose the correct mesh type for a steel mesh basket.
Consider the Application Requirements
The first step in selecting the right steel mesh for your basket is to determine the application requirements. This involves identifying the purpose of the basket, the material being handled, the size and shape of the basket, and the environmental conditions such as temperature, pressure, and corrosiveness.

For example, if you are using the basket for filtering corrosive liquids or gasses, you will need a mesh material that is resistant to corrosion. Similarly, if you are using the basket for handling small particles, you will need a mesh with a smaller opening size to prevent the particles from escaping.
Choose the Right Mesh Material
Gerard Daniel Worldwide, Inc., a company specializing in wire mesh, filtration, and separation products since 1952, advises on how to select proper material in the third installment of its technical bulletin "Micron Mesh Filters" series. It explains that processability, or "how easy or difficult it will be to turn a roll of woven wire mesh into a filter, and how many steps that will take," is one main consideration. Gerard Daniel also recommends reviewing material availability, your project's tolerance requirements, and regulatory compliance factors.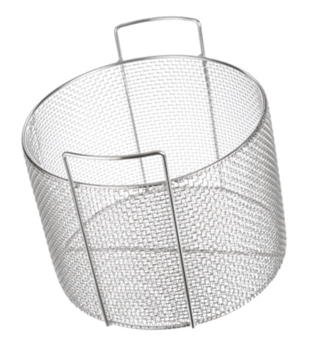 Every material has unique properties that make it suitable for specific applications. Steel mesh is available in various material options, including stainless steel, carbon steel, and galvanized steel. Stainless steel mesh is the most common material used in steel mesh baskets due to its corrosion resistance and durability. It's available in different grades, each with varying levels of corrosion resistance and ideal applications. For example, 304 grade stainless steel is optimal for food processing operations, while 316 grade is good for medical and pharmaceutical projects. 330 grade works well in heat-treat baskets with quenching, and 1008/1010 grades are perfect for industrial applications.

When resistance to corrosion isn't necessary for your application, however, mesh consisting of carbon steel is an economical choice. It's suitable for high-temperature applications, but it can degrade in corrosive environments. Mesh of galvanized steel, a subcategory of carbon steel, possesses a zinc coating that offers some resistance to corrosion. It's well-suited for outdoor applications but not recommended for high-temperature or corrosive environments.
Choose the Right Mesh Size
Mesh size refers to the number of openings per inch in the mesh. To select the right size for your specific application, first determine the particle size that the mesh will have to filter. A smaller mesh size will prevent smaller particles from escaping, while a larger mesh size will allow larger particles to pass through.

For example, if you are handling large particles, you will need a mesh with a larger opening size. If you are handling fine particles, you will need a mesh with a smaller opening size.
Choose the Right Weave
The weave refers to the pattern of the mesh. The most common weave patterns are plain weave, twill weave, and dutch weave. The weave pattern you choose will depend on the application requirements. The weave design used most often in mesh baskets is plain weave, as its simplicity is suitable for most applications. Twill weave is stronger than plain weave and is ideal for high-strength applications. Dutch weave is a tight weave pattern that is well-suited to tasks that require high filtration accuracy.
Marlin Steel: Your Partner for High-Quality Steel Mesh Baskets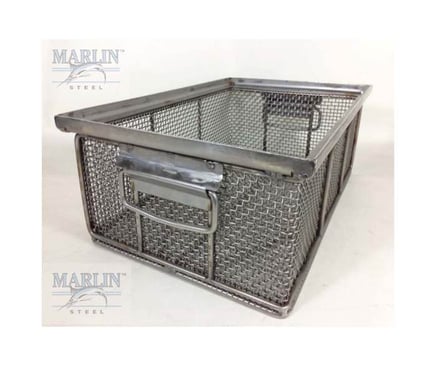 Choosing the right steel mesh for your basket requires careful consideration of various factors such as application requirements, mesh material, mesh size, and weave pattern. By examining these factors, you can select the right steel mesh for your basket that meets your specific application needs.

It is always recommended to consult with a steel mesh expert to ensure that you choose the right mesh for your application. Marlin Steel has specialized in custom design and fabrication for metal wire baskets, wire form products and steel parts since 1968. Our mesh baskets, material handling containers, and all other products are 100% USA-made, allowing us to maintain full quality control in our operation. Superior product quality does not mean that you will have to wait longer for Marlin Steel baskets, however. We incorporate automation into our systems for Quality Engineered Quick®, enabling fast delivery of our product solutions to clients in industries ranging from aerospace to healthcare.

Contact us to learn more about the options you have with Marlin Steel for creating the ideal mesh basket, or request a quote today.