Stainless steel test tube racks are the optimum choice for physicians, researchers, scientists, and laboratory assistants to safely and efficiently conduct testing and experiments. More resilient than plastic, foam, or aluminum test tube racks, metal wire racks are easier to clean, holding their integrity against excessive weight, heat, or force.
Since 1968, Marlin Steel has been creating custom metal forms. Our wire products are manufactured in the USA using 304-grade stainless steel for optimum performance and flexibility. An electropolished finish is available for an overall smooth look and feel.
Our custom test tube racks, which can hold up to 72 test tubes, were recently used by the CDC in the fight against COVID-19.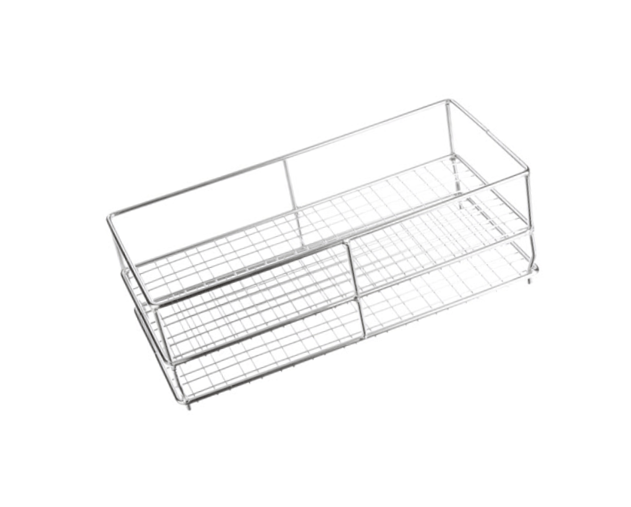 What are Marlin stainless steel test tube racks?
Test tube racks are an essential part of the medical and pharmaceutical industry. They are not only useful for organizing test tubes but have the unique ability to hold multiple test tubes in an upright position.
Stainless steel wire racks are highly effective in laboratory settings because they are sterile and non-corrosive to bodily fluids. Test tube racks provide protective storage and prevent breakage during the autoclave sterilization process, avoiding the risk of contamination.
Transporting and cleaning test tubes is simplified when using a wire rack.
Product Features
Material: Stainless steel is recyclable and offers greater sustainability. It can efficiently withstand sterilization and cleaning processes. The metal is durable, versatile, and compatible with hot plate usage.
Design: The wire rack has small legs with 2.5 cm to 5 cm feet, which allows for a gap around the bottom for steady airflow and ventilation.
Quantity: The wire racks can house up to 72 test tubes.
Test Tube Size: Test tube racks can accommodate test tubes ranging in size from 10 mL to 20 mL without the risk of falling through or need for modification.
Coating: There is no epoxy coating on the wire rack.
Temperature Resistance: Stainless steel test tube racks have an operating range of -150F to +1600 F (-101C to +871C) and can withstand cyclic or rapid temperature fluctuations, outperforming racks made from other materials.
Custom Racks
Customized options for stainless steel wire racks include an electro-polished finish that has the following benefits:
Improved sanitation control
Reduced galling and seizing
Improved surface appearance
Reduced risk of sharps or burrs
Improved structural integrity
Marlin Steel offers custom wire racks made from 316 stainless steel. The versatile material offers improved corrosion and acidic resistance, allowing greater tensile strength at extreme operating temperatures.
Customized bottom options include wire, mesh, or grid. Handles and stackable feature options are also available.

What are the common applications of stainless steel test tube racks?
Stainless steel test tube racks are frequently used in hospitals, laboratories, and other medical facility settings and are effective in a variety of applications, including:
Safe and effective storing, mixing, cooling, and heating of chemicals
Blood collection
Coagulation screens
Efficiently culture and handle various organisms, samples, and fluids
Analyze solid remains with the use of a hot plate
Evaporate liquid from a solution contained in a glass test tube
Why should you choose Marlin Steel Stainless Steel Test Tube Racks?
Marlin Steel offers exceptional quality while focusing on consistency. Our experienced staff members are the best at what they do, with 20% of our employees having an extensive background in mechanical or chemical engineering.
As an industry leader in manufacturing custom stainless steel racks, our attention to detail and precision performance capabilities set us apart from the competition.
As an ISO 9001:2015-certified company, we ensure that all of our products can withstand corrosion and excessive temperatures while providing the strength and versatility needed to hold, protect, and transport test tubes. In addition to providing quality custom wire racks, Marlin Steel Wire Products also carries an extensive in-stock inventory of wire forms, wire baskets, hooks, and sheet metal fabrications.
Contact us today if you have a question about our wire test tube racks or would like to receive a no-obligation quote. One of our experts can help you determine how Marlin Steel can best meet your business needs.