Since 1968, Marlin Steel has established a reputation for providing outstanding custom wire baskets to meet even the most stringent specifications and industry requirements. Recently, we received a request from an aerospace manufacturer to create custom-engineered stainless steel wire baskets for component cleaning applications. Our degreed engineers worked closely with them to establish detailed specifications to create custom aerospace baskets that met the highly particular needs of the application.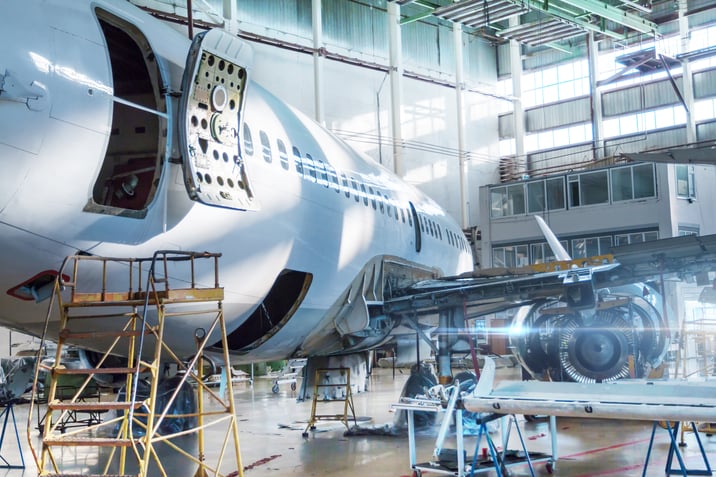 The Opportunity: Designing a Parts Cleaning Basket
The client reached out to Marlin Steel for a custom grade stainless steel basket with ⅝" x ⅝" dividers that could hold ½" x ½" parts. The basket needed to fit within a 24" x 24" x 2" washing machine. In addition, the client needed the baskets to have accessible handles to easily remove the baskets from the washing machine as needed.
The Solution: Designing and Producing a Custom Wire Basket
The first step was determining the specific needs of the client. Once we understood the details of the project by adding detailed questions about the fit form and function, we were able to create a custom aerospace washing basket design that was ideal for this application.
Each basket was designed to hold small components with a total load weight of less than one pound. The baskets were created free of nitrogen compounds and capable of withstanding cleaning temperatures up to 180°F. Metal-on-metal contact was forbidden since the surfaces could not be marred nor scratched, so our engineers used Teflon-coated 304 stainless steel to eliminate the chance of the airplane component having an abrasion. The coated stainless steel baskets exhibited optimal strength, temperature resistance, and corrosion resistance throughout the wash cycle.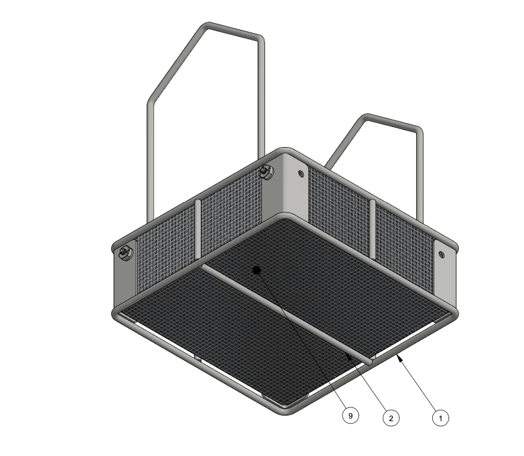 The Final Results: Delivering A Cleaning Basket for the Aerospace Industry
Marlin Steel's team of experts successfully designed and fabricated a custom steel wire basket for the client. Our experience and capabilities allowed us to produce and deliver superior quality custom baskets with speed and efficiency.
Using the latest design technology and open communication, we ensured that our design was consistent with every facet of its intended operation. Throughout each step of the process, we submitted detailed AutoCAD inventor designs (we also use solidwords) for customer approval. The final product was the result of meticulous testing and review of critical dimensions, weight, material specifications, design strength, functionality, and protection for delicate aerospace components.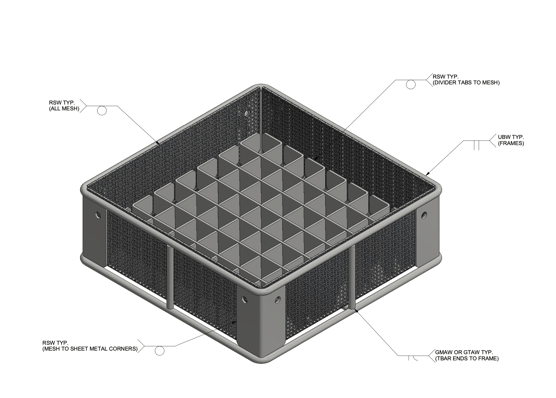 Contact Our Experts for Premium Custom Wire Baskets Today!
At Marlin Steel, we are confident that we can produce outstanding wire baskets to meet your needs. We maintain an inventory of 300+ quality baskets used by industry-leading manufacturers Pratt & Whitney, Rolls Royce, GE Aviation, and CFM. We also offer a variety of carts, hold baskets, shaft cards, and circular floats for large aerospace components.
From our ISO 9001:2018 certified facility, we design, engineer, manufacture, and distribute wire baskets for a range of industries and applications. Download our eBook How to Choose the Right Wire Basket for the Job to find out which basket design is ideal for your operation. To learn more about our stock of pre-fabricated and custom wire basket solutions, visit our Custom Wire Baskets page or contact our experts today!