Marlin Steel recently visited a new client to help improve their automation process. The client had material handling robots set up to perform tasks that included moving components from one place to another on automated trays and processing the parts through a washer. Unfortunately, the robotic grips weren't sorting the components very well within the client's current trays and were damaging the trays when they moved them. The client was hopeful that we could help solve these issues.
When talented employees are difficult to find, robots offer an excellent solution for keeping operations moving 24 hours a day. Marlin Steel designs and produces optimized steel trays that are more compatible with our clients' robots and will solve their current problems. In this case, our professionals decided to create unique trays to complete the client's automated ecosystem. These custom trays make the process more efficient, allowing the robots to work faster and load more parts at a time. This solution also lowers material handling costs and keeps human intervention at a minimum.
Marlin Steel uses advanced software like Autodesk to test tray designs, which reduces production time and prototype materials—saving clients time and money. We incorporate advanced factory automation processes during production, including:
Wire-bending robots
Medium frequency DC welder
Robotic stamping, swaging, coining, and piercing machines
Wet belt sanding equipment
These automated processes ensure that we can build steel basket trays quickly and effectively, with a consistency that is not possible through manual production. For this reason, businesses in the automotive, aerospace, telecommunications, medical, food processing, and other industries rely on us for custom, high-quality wire baskets. The client in this case study had particular specifications for materials, dimensions, weight capacity, and other properties that we were happy to accommodate.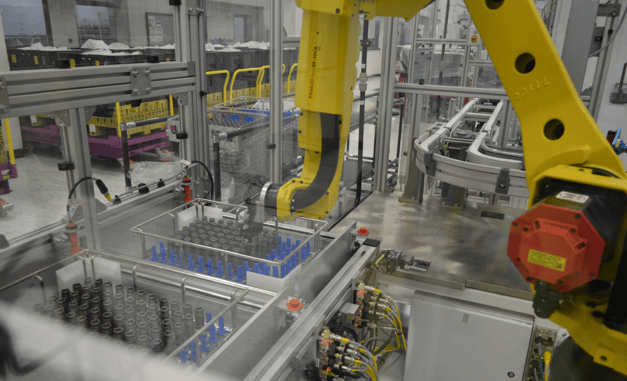 Case Study - Material Handling Precision Machined Components
The client requested two types of baskets: one to hold gears and one to hold pinions. Each gear had an outer diameter of 3" to 12", and each pinion was 3" to 16" in length with an outer diameter of 0.5" to 3". To provide accurate quotes, Marlin Steel estimated the number of gear baskets that would hold 6,000 gears. Likewise, we quoted enough baskets to make a run that would hold 6,000 pinions. Each type of basket would be made of nylon-coated stainless steel and could be further customized to the client's individual needs. We presented these quotes to the client and worked together to refine the final deliverable and cost.
Basket Tray Design Considerations for Robotic Arm Applications
By making baskets better optimized for this client's robotic arm applications, Marlin Steel completed their automated ecosystem, helping streamline their component moving and washing operations. The nylon-coated gear baskets and pinion baskets each have a target weight of 30 to 50 pounds, with a maximum weight capacity of 120 pounds.
Each gear basket is built with a 45° arm for resting parts, and robots can use a three-pronged grip to pick them up and stack them easily. Additionally, each gear basket is universally made so that robots can visualize their orientation and manipulate them as needed.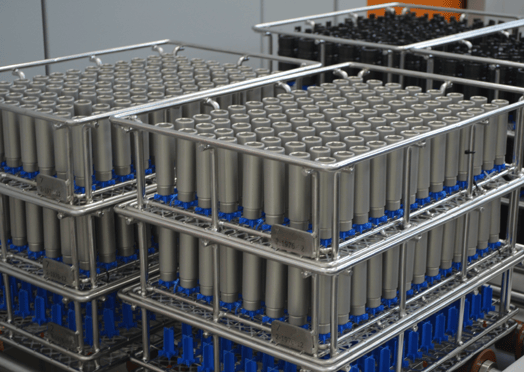 Each pinion basket can be manipulated by a robot's FANUC arms, and the robot's white block holders will be able to easily pick up and move the baskets. These baskets are also universally made so the robots can visualize their orientation and move them around easily.
Each tray has an attribute or symbol cast into it that aids the robot's optics to visualize and orient the tray accordingly. The robot's visual system can also use these features to view multiple baskets simultaneously. To prevent orientation errors, baskets are equipped with a chamfer or other identifier on a corner, which helps with positioning and stacking.
To help the robot grip parts and stack them within the trays, we design each tray with the proper amount of clearance space for the gripper. There are also cavities within the tray to help the robot position components properly. We study the client's specific manufacturing robots to optimize the baskets for pick and place operations.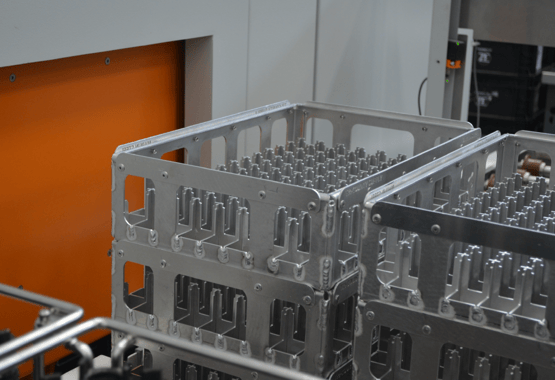 Stack Features
Trays can also be designed with stack features, such as a 180° rotational stacking design that allows trays to stack on top of one another and save space. This cost-effective stacking method requires no undercuts. When the upper tray is rotated 180°, it will stack on the tray underneath it without any load on parts in the tray. When empty, the trays will nest completely, taking up the least space. Marlin Steel can also design trays with undercuts to allow them to stack without any rotation.
Materials
Carefully chosen materials guarantee product durability and consistency. For every new project, Marlin Steel considers the best materials based on the client's particular application and budget. For this case study, the client chose 304 stainless steel as the material for their baskets but needed our help determining if this was the right choice and if any coatings were necessary. They also requested the baskets have sufficient stacking ability, dividers, and the capability to be lifted by cranes.
Here are some other variables to consider when choosing a material:
Chemical resistance, if needed
Maximum and minimum operating temperature
Amount of time exposed to maximum temperature
Level of abrasion or vibration typical for the application
Areas of the parts handled that cannot be touched/scratched
Contact Marlin Steel for the Perfect Metal Baskets for Your Needs
Marlin Steel specializes in creating custom metal forms in the United States. Products include stainless steel washing baskets, racks, wire forms, and sheet metal material handling containers. Over 20% of our company comprises mechanical and chemical engineers equipped with the knowledge to design custom-built baskets for your business's needs. We have over five decades of experience designing and producing custom metal products for various clients in the pharmaceutical, food and beverage, automotive, aerospace, telecom, and chemical industries.
Check out our eBook to learn how to choose the right wire basket for your application, or contact us today to get started on your custom solution.