It wasn't a busman's holiday at the Magic Kingdom, but Jason E., an application engineer here at Marlin Steel with a keen eye, couldn't help but notice a couple of Marlin Steel Wire Products while visiting sunny Walt Disney World with his family this weekend.
He spied the napkin baskets (left) while visiting the Norway pavilion in Epcot.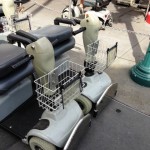 Mobile vehicle wire baskets
And he observed the wire baskets that we built a few years ago for mobile vehicles at the resort (right).
We were glad to see Marlin's baskets being put to good service at the world-famous theme park.
In fact, we couldn't have been more delighted even if Jason had brought us home a pair of mouse ears.