The 99th Percentile: A Near Impossible Achievement
Marlin Steel has achieved the extraordinary milestone of reaching the 99th percentile in the Workers Compensation Experience Rating. This incredibly difficult feat indicates that Marlin Steel outperforms 99% of similar companies when it comes to worker safety, providing an unparalleled culture of safety.
Our employees take an active role in our safety programs. They are extensively trained in machine operation, and our facility's high degree of automation contributes to overall safety on a daily basis. Marlin Steel is 100% dedicated to continually improving our safety practices so that our employees—and their families—have the peace of mind of knowing they work in a safe place.
As a leading manufacturer of high-quality, American-made metal wire, basket, rack, and sheet products, Marlin Steel is committed to delivering excellence, both in the products we create as well as in our working environment. We believe crafting superior products begins with a safe workplace, and we are proud to be recognized for our dedication to worker safety and well-being.
Marlin Steel's Outstanding Safety Committee
To help us create and maintain a meaningful safety culture, Marlin Steel boasts an exceptional safety committee that meets monthly to review and identify new ways to improve the well-being of our team. This committee's relentless dedication to improvement has allowed us to boost our safety rating far above that of our competitors. Our safety committee will continue to uphold this standard of excellence and identify new ways to improve workplace well-being.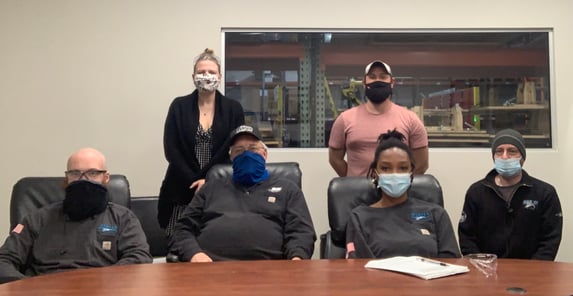 Our Proven 9-Step Process for Ensuring Worker Safety
As part of our commitment to our team's health, we've developed a nine-step process for improving workplace safety:
Create a safety committee: Create a team from different departments that meets regularly to discuss potential safety and well-being improvements.
Install sufficient lighting: Well-lit areas make trips and falls less likely.
Clear aisles and promptly discard debris: Having fewer objects to navigate around in the workplace makes everyone's job easier and safer.
Eliminate extension cords: Have an electrician run a hard wire to devices. This will prevent tripping and potential shocks from frayed extension cords.
Forklift training: All employees that might ever need to operate a forklift should receive proper training for it.
Inspect new equipment: All new machinery should be inspected by the safety committee for potential hazards and should also come with instant shut-off mechanisms and proper caging.
Learn from mistakes and near-misses: Document mistakes and near misses: take pictures, interview participants, and take actionable steps to ensure it doesn't happen again. Avoid blaming specific parties, as your employees should feel comfortable giving constructive feedback.
Lift safely: If employees must lift objects manually, instruct them to do so with their legs, not their backs. Invest in lifting technology wherever possible to protect your employees from lifting-related back injuries.
Invite OSHA and your Workers Compensation Insurance Company (WCIC) to visit: OSHA and your WCIC want your employees to be safe and successful in the workplace. They can help you identify potential issues and prevent accidents from occurring.
Taking steps like these has not only boosted our workers compensation experience rating but also led to our feature on page 43 of the June 2022 issue of Wire Journal. To date, we have gone over seven years and four months without a lost time accident. You can read the article online or download the pdf version.
We have also been recognized by OSHA with the SHARP safety award. You can read more about these achievements on our website's safety page.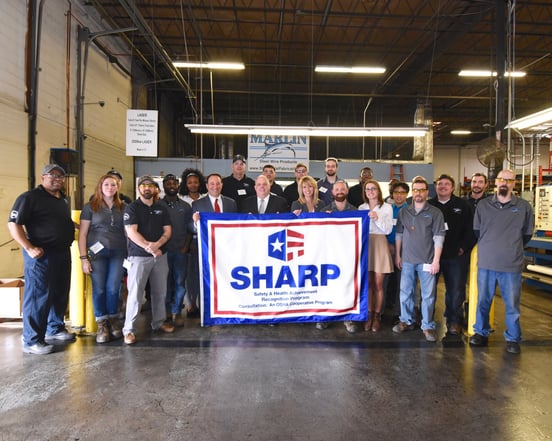 (Governor Hogan visits Marlin Steel and presents an award for excellence in safety for 2500+ days with no incidents. )
100% Dedication to Our Employees
Beyond ensuring workplace safety, Marlin Steel also invests in our employees to help them live happy and successful lives. We use innovative cross-training techniques to boost workers' skills so that they can make quality products and advance their careers. We view our employees as critical to our success, so we offer worker bonuses for meeting production goals. All of this contributes to our value proposition: to provide high-quality, American-made products with rapid turnaround times.
Learn more about our company culture in this video, and watch our CNN spotlight with Marlin Steel CEO Drew Greenblatt to learn how we actively strive to improve employees' lives.
Marlin Steel's Commitment to Worker Safety
Since our company was founded in 1968, Marlin Steel has been a wire manufacturer dedicated to producing high-quality, 100% American-made products with rapid production and delivery times, all from a safe working environment. Our recent achievement of the 99th percentile in the Workers Compensation Experience Rating is an accolade we are extremely proud of and that represents our dedication to employee well-being.
To learn more about our Workers Compensation Experience Rating or other achievements, reach out to our team by calling (410) 644-7456 or contacting us online.