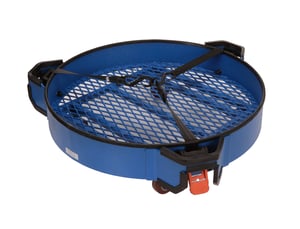 In a recent article for MRO Network, an online publication specializing in covering topics for maintenance, repair, and overhaul (MRO) facilities, Marlin Steel was recognized for its new circular floats being a key tool for reducing engine transport risks in MRO shops.
What makes Marlin's circular floats so great for MRO applications? Especially when compared to simple wood pallets?
Here's why Marlin Steel's circular floats vastly outperform wooden pallets and help MRO shops save money in the long run:
The Trouble with Wood Pallets in MRO Shops
Lots of MRO shop owners prefer to use wooden pallets because:
They're cheap; and
They're readily available.
However, wooden pallets may end up costing MRO shops handling large and delicate engine parts dearly in the long run. This is because wood pallets frequently encounter the following problems:
Unprotected Parts Overhanging Sides. Without any kind of enclosure to protect the sides of parts, it's all too easy for stray forklift tines to make direct contact with engine parts on accident—causing damage that cannot be easily fixed. Additionally, because larger parts hang over the sides of the pallet, they may hit walls or other objects and become damaged.


Nails Protruding from Pallets. Wooden pallets, especially older ones that have been exposed to numerous changes in temperature and humidity, frequently have loose nails. These nails protrude onto the surface of the pallet, creating a point which might catch or scratch parts on the pallet. Even worse, these protruding nails can cause injury to workers and, if they fall out completely, weaken the pallet so it collapses.


Part Slippage. Without any inbuilt restraints for the parts they hold, it's all too easy for a wooden pallet to end up depositing delicate parts on the floor. All it takes is a bump or slope in the path of the pallet/forklift to cause a multi-thousand-dollar aircraft part to go tumbling to the floor. This leads to extra reworking or remanufacturing of parts.


Extra Labor Time Spent Securing Parts. To prevent most of the above problems, many MRO shops have their employees take time to wrap parts on pallets in Styrofoam, rubber, or other protective materials before moving their pallets. However, this takes valuable time, labor, and materials that drive up the total cost of ownership (TCO) for pallets even further. For example, say thoroughly securing and protecting a part takes six minutes and $5 of single-use Styrofoam. After securing ten parts, that's an extra hour of labor and $50 of materials consumed.
Why Marlin's Circular Floats Outperform Wooden Pallets
Marlin Steel's circular floats might cost more up front than a wooden pallet rack, but they frequently prove to be worth every penny for a busy MRO shop. Why do Marlin's circular floats outperform wooden pallets?
Here are a few reasons why Marlin's floats are, hands down, better than wooden pallets for moving and protecting delicate engine parts:
Built-in Adjustable Ratchet Straps. Marlin's circular floats have built-in ratchet straps to hold delicate and oddly-shaped parts securely in place in the basket. This prevents parts from falling over or out of the basket unexpectedly, reducing the risk of damage.


A "Truck Bed" Liner to Prevent Metal on Metal Contact. The interior of a Marlin Steel circular float uses a polymer material coating similar that found in a utility truck's bed. This prevents direct metal-to-metal contact, reducing scratching risks.


Solid Side Walls. Rather than letting parts dangle from the sides of an undersized pallet, Marlin's circular floats have raised side walls that absorb potential impacts for the part. This helps to further minimize the risk of accidental impacts that damage parts.


Caster Wheels for Easy Movement. Rather than having to rely on heavy machinery to move a wooden pallet, a circular float's caster wheels let employees move large parts by hand. This frees up forklifts for other tasks.


Expanded Mesh to Remove Debris. Debris such as loose nails or other objects simply falls through the expanded metal mesh bottom of Marlin's circular floats. This helps to prevent punctures and scratches which can cause parts to need reworking or replacement.
By providing a large enclosure that is well-protected, Marlin's circular floats help MRO shops minimize the risk of damage to their parts. This, in turn, helps MRO shops improve throughput while reducing costs—which can provide a crucial competitive advantage.
Want to know more about Marlin's circular floats? Reach out to the Marlin Steel team to discuss your MRO shop's needs.