Marlin Steel Wire Products LLC is pleased to announce our acquisition of the patent and intellectual property of Cable Corral from TechDek Products. Cable Corral is a company that produces cable organization and other under-desk solutions. Marlin Steel plans to further this mission by providing safe, high-quality cable and wire organization solutions for offices and factories around the world.
We intend to make the transition as seamless as possible for customers and staff by keeping on all Cable Corral staff, including Cable Corral president Eric Gallup. Learn more about how this acquisition will benefit you, the customer, going forward.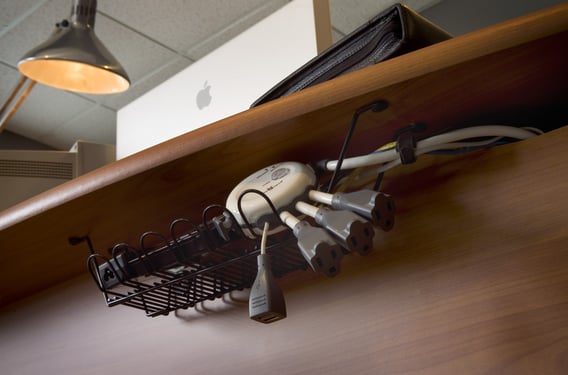 About Cable Corral
Cable Corral provides patented cable management solutions that neatly keep cables, cords, and power strips in sturdy wire rack holding trays. The cable organizer mounts under the desk and allows additional securing via velcro straps or cable ties. Available products include Cable Corral wire tray organizers, zip wraps, zip ties, and desk bundles.
Patented Cable Corral holding trays are made from 100% recycled steel and feature an ergonomic design. They aim to enhance workplace safety, aesthetics, and productivity.
"Their creativity is inspiring and their institutional knowledge will be retained so we have a smooth transition for the Cable Corral clients," said Drew Greenblatt, president of Marlin Steel. "Eric's leadership over the decades and his dedication to quality and on-time delivery is legendary."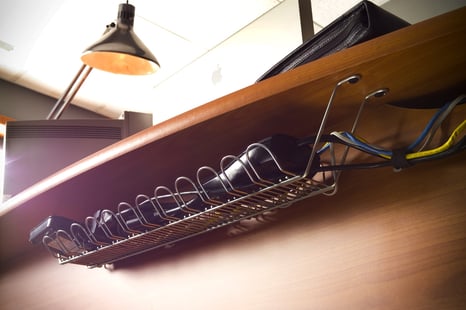 About Marlin Steel
Marlin Steel specializes in designing and engineering custom metal forms, such as stainless steel wire baskets, S-hooks, racks, and sheet metal material handling containers. Over 20% of our staff is made up of degreed mechanical engineers, and we are committed to finding the right solutions for our customers in over 40 countries around the world.
From our process-driven ISO 9001:2015 certified facility, we manufacture products 100% in the United States and provide same-day shipping.
Marlin Steel + Cable Corral
At Marlin Steel, we believe our merger with Cable Corral will significantly benefit new and existing customers. As process-driven companies, we share a common goal: to manufacture eco-friendly, 100% American-made products of the highest quality for our customers.
Both Marlin Steel and Cable Corral are family-owned, so we are excited to unite the full staff of both companies into one blended family. To demonstrate our dedication to our combined success, Marlin Steel has invested over $7 million in the most advanced wire forming automation technology. In February 2021, we expanded our facility by 56%, followed by another 6,000 square feet of floor space in December.
"We are making offices look professional and pleasant to work in… Dedicated workers like a clean look and that is what Cable Corral provides," said Eric Gallup, president of Cable Corral, in a press release. "Marlin has always been focused on safety—they have gone 1,475+ days with no safety incident, and by adding the Cable Corral line, they will be stopping trip hazards in offices and factories."
We look forward to offering Cable Corral office organization solutions in addition to our extensive custom metal and wire formed products. We will continue advancing our facilities and capabilities to provide better products for our expanding customer base. To learn more about Marlin Steel's products and capabilities, download our new eBook or contact us. If you're ready to start your custom solution, request a quote today.