As restaurants begin to open up again in the post-pandemic era, they need to take the proper steps to make their dining rooms safe, comfortable, and sanitary for employees and customers.
Some safety guidelines for restaurants have been outlined by the CDC, such as using proper hand sanitation, disinfecting workspaces, and practicing social distancing.
We provide you with some great options to help you stay compliant with CDC guidelines for your restaurant, including hand sanitizer stands and hand sanitizer dispensers that can be placed throughout your facility.
Challenges Facing Restaurants As States Reopen
Restaurants are trying to prepare the best they can to reopen safely for their patrons. This means they must overcome some common challenges that are related to the COVID-19 pandemic.
The challenges restaurants face as they reopen include keeping up with changing state and federal sanitation and social distancing guidelines. Some states may even have to screen employees and customers for fevers.
Restaurant owners are concerned about the safety and health of their employees and customers. In order for them to overcome these challenges, they must change the way they operate and provide more options for sanitation to reduce the spread of infections.
How Hand Sanitizers Can Help Restaurants With Infectious Disease Control
One answer to the sanitation challenge that restaurants face is using touch-free hand sanitizing stations. These are easy to set up and easy to use.
Here are some ways that hand sanitizers help restaurants with infectious disease control.
They're Easily Accessible
Hand sanitizer stands can be set up anywhere in a restaurant for easy accessibility for guests and employees. With touch-free hand sanitizer dispensers, you have even more options to place them in convenient places. For instance, they can be fixed to a wall or another surface for ease of use.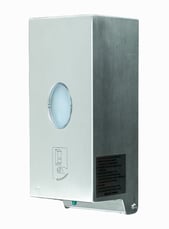 Some places you may set up a hand sanitizer stand or a hand sanitizer dispenser include break rooms, offices, workspaces, bathrooms, and other high traffic areas.
They Enforce Sterility
Conveniently placed hand sanitizing stands make it easy for customers and employees to maintain hygienic practices. For instance, hand sanitizer stands and dispensers that are placed at different entry points throughout your restaurant can serve as a reminder for people to clean and sanitize their hands.
This helps surfaces stay sterile before employees or customers move about your facility touching other surfaces.
They Makes Guests Feel More Comfortable
Another challenge to the restaurant and hospitality industry is the fact that the consumer confidence index is dropping, which means that many people don't feel comfortable eating at restaurants. And when patrons do not feel comfortable, they naturally do not return to those businesses.
The loss of revenue is truly staggering. In fact, Statista reports that year-over-year seated diners in U.S. restaurants dropped 50 percent as of November 2020. The economic impact is devastating: Within just three months of the COVID-19 pandemic, the industry reported a loss of $120 billion in sales.
Recovering from this massive drop in revenue will take a long time. By focusing on providing a safe, clean dining experience, restaurants can address those guests who don't feel comfortable eating outside their home.
Fortunately, if those hesitant patrons notice that you have Marlin Steel dispensers and hand sanitizer stands, they'll know you are committed to making sure germs aren't being spread throughout your restaurant.
They can be sure that the people waiting on them have easy access to clean their hands in between tables and workspaces.
Choose Marlin Steel's Hand Sanitizer Stands For The Best Protection in Your Restaurant
Purchase American-made hand sanitizer stands for your restaurant's infectious disease control. They are made out of highly durable stainless steel that is attractive and easy to wipe down.
Call Marlin Steel experts to purchase the best stainless steel fixtures for your restaurant so you can protect your guests and employees.