Floating metal shelving is one of the most versatile shelving options available for all types of workplaces. Stainless steel shelves, in particular, are a popular choice for storage and display needs in office, retail, food service, laboratory, and residential environments.
Unlike other steel shelving options, wall mount stainless steel shelving offers more durability and a longer lifespan. They are also environmentally friendly due to their nontoxic and recyclable composition. Recent developments in the fabrication industry have enabled manufacturers to weld, cut, mold, and process stainless steel like other metal materials.
At Marlin Steel, we manufacture top-quality stainless steel shelving for a wide range of applications.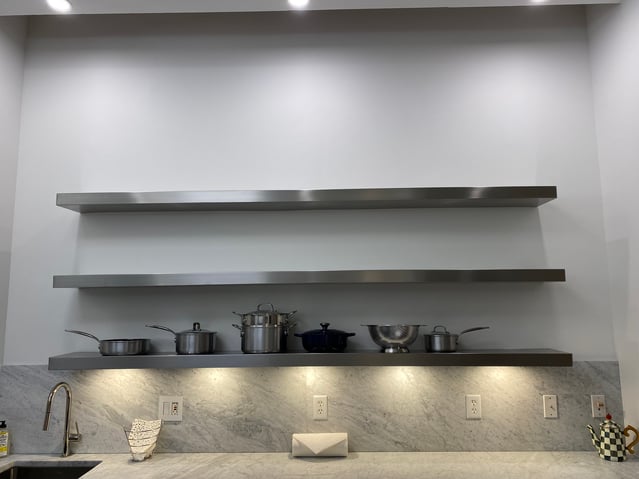 Benefits of Stainless Steel Floating Shelves
Restaurant and laboratory facilities often use sturdy floating stainless steel shelves to store and organize supplies. In these environments, stainless steel is preferred over other materials—like wood—because it is strong, easy to clean, and water-resistant. In humid settings like kitchens, wood shelves rot and harbor mold, which can harm staff and diners. Stainless steel shelves are corrosion-resistant, so they are waterproof and do not rust.
This corrosion resistance is also important for hospital and lab shelving, which is regularly exposed to various chemicals.
Floating shelf designs are also as robust as conventional shelving with visible brackets. The lack of visible brackets often leads people to perceive floating shelves as less sturdy, but stainless steel floating shelves can indeed support heavy equipment while freeing up wall space.

Shiny Stainless Steel
304 Grade Stainless Steel is food grade quality and easy to clean. Optimal for research labs and restaurants and snappy offices.
How Our Shelving Is Made
Our standard floating shelves feature 16 GA (very robust) , 304 stainless steel construction and a wire-brushed finish, but we can customize them to other specifications. We also offer under-shelf lighting options if needed. Additional specs for our shelving include:
10-24 x 0.375" button head screws to secure shelves to support frames - included
¼" fasteners for mounting - included
2.50" height
27.1 lb weight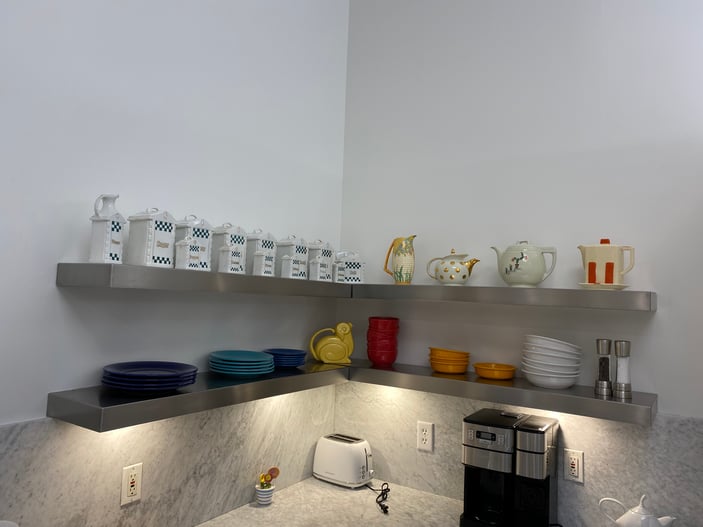 Choose Marlin Steel for Your Stainless Steel Shelving Needs
At Marlin Steel, all of our products are made in the United States and offer exceptional quality. In addition, 20% of our staff are experienced mechanical and chemical engineers, while most manufacturers of similar products only staff around 1%. All our employees deliver Quality Engineered Quick® service.
We put our products through rigorous quality assurance testing, which takes place during the design and manufacturing process. Our ISO 9001:2015 certified facility is capable of manufacturing high-quality custom wire products that meet the strictest standards and specifications.
If you need a stainless steel floating shelf or want additional information about our products and services, contact us today.
Floating Shelf Form