Marlin Steel's custom metal baskets and racks are utilized in a wide range of applications, from ultrasonic cleaning baskets to material conveyance. Marlin Steel offers a wide range of specialized coatings to serve the particular needs of various operations. Using the latest wire forming methods and coating technology, we create custom parts with coatings that cushion and protect your components which rest in our baskets in every situation.
Our highly knowledgeable engineers review your manufacturing process and evaluate the conditions under which the basket will be expected to perform. With this information, we will help you find the perfect coating to enhance the durability, utility, and service life of your steel wire baskets and stainless steel baskets.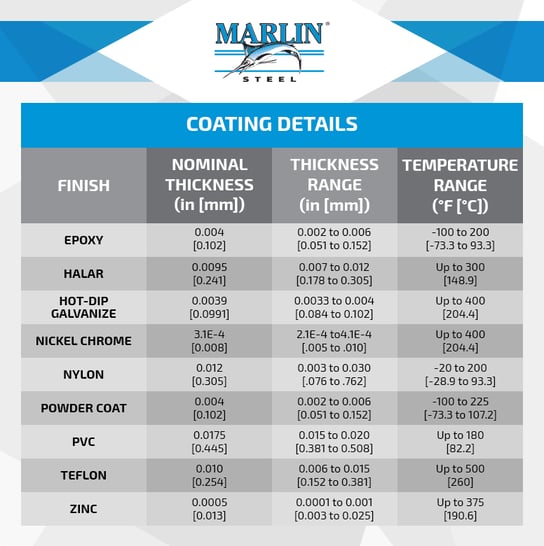 What Coatings Does Marlin Steel Utilize?
With decades of experience with wire forming applications, Marlin Steel offers numerous specialized wire coatings to enhance equipment performance and service life. Some of our most popular coatings include:
Polyethylene. As the most popular plastic material on the market, polyethylene is highly resistant to basic and acidic compounds and can be used to create a corrosion-resistant surface to protect your basket from these substances. Polyethylene can be custom-formulated to meet the specific needs of a variety of applications.
Polypropylene (PP). Polypropylene is a highly durable thermoplastic that offers lightweight resistance to acids, alkalis, and organic solvents. With low density and high fatigue resistance, polypropylene is often used to create light, flexible plastic joints.
Polytetrafluoroethylene (PTFE). As long-time favorite for industrial applications, non-stick PTFE coating resists UV rays, extreme hot and cold temperatures, corrosive chemicals, and abrasion. It won't absorb water, which makes it ideal for washing applications.
Polyvinylidene fluoride (PVDF). PVDF is an inert plastic with excellent resistance to acids, hydrocarbons, and solvents. This plastic is typically selected for applications that require high purity.
Epoxy. Epoxy coatings are characterized by their exceptional hardness and resistance to solvents, humidity, and stains. Epoxies offer a very tough coating option for wire baskets, creating structural reinforcement and chip-resistant protection that significantly enhances the basket's service life. Of note, epoxy coatings do not function well in outdoor conditions.
Halar. Halar is a semi-soft, chemically resistant coating with low water permeability, making it ideal for insulating custom wire baskets. The softer material reduces scratches and scuffing, while protecting the basket from harsh chemicals.
Nylon. Nylon is highly valued for its low friction qualities. It resists a variety of corrosive and solvent chemicals and does not stain or allow fungal growth. Nylon presents a smooth, attractive finish, and provides an effective coating for applications in which abrasion, corrosion, and chemical exposure are likely.
Which Coatings are Best For Steel Baskets?
The best coating for your steel baskets depends on the application in which they will be used. Whether you use stainless steel mesh baskets or steel wire baskets, each coating material has unique benefits for particular conditions. For example, PVDF is an excellent durable coating, but can only withstand temperatures up to 280°F. For applications with a higher operating temperature, PTFE polymer coating would be better. For operations that require low friction coating, Nylon or PTFE (Teflon) may be ideal.
In order to select the right coating for your custom wire basket or container, Marlin's seasoned chemical engineers will ask a series of targeted questions about your application processes and goals. Using the responses from your custom basket questionnaire, our team will help you find the right basket design, material, and coatings to streamline your operations.
The Marlin Steel Solution
As an industry-leading manufacturer of steel wire and sheet metal products, 20% of the staff at Marlin Steel consists of highly degreed chemical and mechanical engineers. We strive to keep our products and processes up to date using the latest developments in material science and metal fabrication techniques.
Marlin Steel is committed to providing exceptional service and superior quality products. We offer a same-day shipping guarantee for parts we have in inventory, providing you with the parts you need, when you need them. All of our products are manufactured to our proprietary Quality Engineered Quick® standards, to ensure surpassing quality with the utmost speed and efficiency.
To facilitate a quick turnaround, Marlin Steel maintains a comprehensive selection of stock products, including wire baskets and forms, as well as standard sheet metal components and containers for ultrasonic cleaning, dipping, parts handling, and washing applications.
Quality Steel Wire Baskets and Key Coating From Marlin Steel
Whether your stainless steel or steel wire baskets require hard epoxy coating for high impact operations or low-friction Nylon coating, Marlin Steel has the perfect coating for your needs. Using our extensive knowledge, decades of experience, and state-of-the-art equipment, we can produce and coat wire baskets and containers for virtually any application.

To learn more about our extensive selection of stock and custom wire baskets and coatings, contact Marlin Steel today.