The gun manufacturing process must be as precise and efficient as possible. Anything that goes awry in the process can cause unnecessary waste and a slowdown in productivity and delivery.
For gun manufacturers to reach their optimum performance, they need high-quality materials to place and transport their parts and components.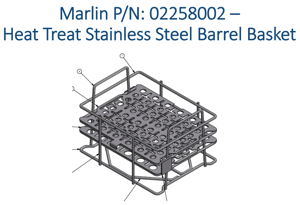 Steel baskets are a good option for manufacturers that want to prevent product flaws for a seamless process that ensures top product quality time and time again so they can overcome the most important challenges facing their industry today.
Challenges Facing Gun Manufacturing
Americans have been purchasing more firearms and ammunition this year, which means the gun manufacturing industry must keep up with the demand.
The cause of this demand is highly related to the COVID-19 pandemic, social unrest, and the economic climate. Due to this unprecedented demand, there has been an unexpected shortage in guns and ammunition as manufacturers struggle to keep up with first-time gun buyers.
Gun manufacturers must meet the surge in demand by moving quickly and efficiently to ensure fast production with firearms that are free from flaws, so the integrity of the firearms are not compromised.
How Can Marlin Steel's Wire Baskets Expedite Gun Processing
Gun manufacturing companies can expect their process to be expedited when they make use of Marlin Steel's high-quality wire baskets. Here are some of the ways these wire baskets can make your gun manufacturing process quicker and more efficient than ever before.
More Precision
Gun manufacturers pay special attention to precision so they can maintain the highest level of quality. Marlin Steel's baskets are equipped with specialized chemical coatings that ensure your delicate parts and components remain in pristine condition.
This helps to reduce manufacturing scrap, along with the time and money you spend on production costs.
Marlin's wire baskets are also engineered using a simulation tool that tests and analyzes the baskets' strength under certain conditions and elements. The engineer team can conduct a full structural stress analysis so wire baskets can be manufactured without weaknesses for your specific gun manufacturing process.
Customizable Options
With Marlin Steel, you get to choose from custom wire basket options that fit your unique gun manufacturing needs. Marlin has a group of educated engineers that can expertly design metal baskets to improve your manufacturing workflows. This way, you can eliminate unnecessary downtime so your workers can maintain high levels of productivity.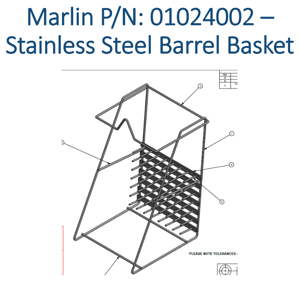 Some of these customizable options include fitted handles for smooth transportation and lids for stacking and extra security. No matter what your needs are, Marlin can meet them.
Faster Operations
The way firearm parts are transported and moved during your manufacturing process can change the speed of your operations. The better your process, the faster your products can be delivered to shelves.
Instead of being moved by hand, metal wire baskets designed for conveyor belts makes handling easier and increases production speed.
When you also purchase Marlin's stainless steel carts that go along with the metal baskets, you can reduce the strain to your employees and increase the speed of transitions between manufacturing operations.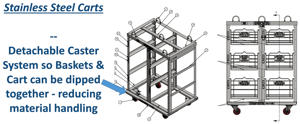 Foreign products don't compare to Marlin's domestically produced wire baskets because they can be shipped straight to you, without being processed by customs. Within a few days of your order, you can expedite your gun manufacturing process to keep up with demand.
If you're ready to overcome your challenges by meeting demand with minimal scrap, talk to the Marlin Steel team for advice on which steel baskets fit your unique gun manufacturing needs best.