Ultrasonic cleaning processes are increasingly popular across commercial and industrial sectors. Ultrasonics can reach every inch or MM of surface area on an item—even if it has an intricate design with small details—and it doesn't use detergents that may damage sensitive items. Ultrasonic technology is gentle enough to clean fragile components without negatively impacting the efficacy of the part over its lifetime, while still powerful enough to remove contaminants.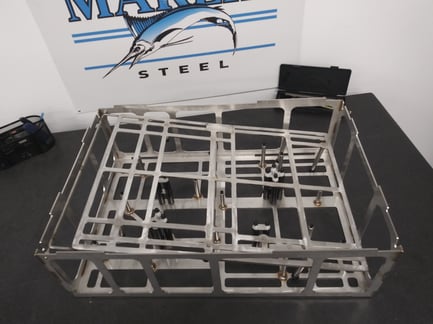 At Marlin Steel, we custom-build our ultrasonic cleaning baskets, including virtual prototyping and comprehensive stress testing, ensuring they will perform as intended in each unique customer application.
What is the Problem?
Standard and plastic baskets used in many ultrasonic cleaning processes are ill-equipped to withstand long-term cleaning processes. They may eventually bow out, preventing them from sitting flush in the equipment. The inserts may also bend, crack, or break off entirely, causing misalignment and system damage.
Baskets with plastic or weak metal components eventually lead to poor alignment and inconsistent placement for both the basket in the system and parts within the basket. A deformed or chipped basket often results in failure from robotic pick-and-place elements used in automated equipment. Foreign object debris is unacceptable in medical, food, automotive, and aerospace applications.
What Is the Marlin Steel Solution?
At Marlin Steel, we design our ultrasonic baskets entirely from stainless steel with no plastic inserts. The custom baskets include the basket and inserts as a single unit for stronger, sturdier performance. Along with this added strength, the baskets are stackable while nesting components, allowing for more efficient ultrasonic cleaning processes. Sometimes clients desire removable dividers to mix and match the baskets with different production parts. Each basket is precisely designed to meet the dimensional and hook position requirements of each client's STEP design file.
Our recent automotive applications for a tier 1 Ford supplier required baskets built to withstand temperatures up to 140° Fahrenheit and hold at least 40 automotive plates while allowing water to flow freely. They are also strong enough to handle repeated contact with belt conveyors.
Each basket is custom-engineered to allow operators to quickly load orders of channel plates into the basket for a full washing cycle. Because the stainless steel basket and inserts are built to last, your team can rely on precise placement for robotic offloading sequences.
Stainless Steel Baskets From Marlin, an Industry Leader
Our custom stainless steel ultrasonic cleaning baskets are designed to solve the problems you have with your current baskets. Our team knows how to design, test, and engineer custom baskets and metal components for high-performance systems. We're an industry leader in custom engineering and steel wire and sheet metal parts manufacturing, and one in every five members of our team is a highly degreed mechanical engineer.
Our company prioritizes safety, quality, on-time delivery, and customer service on every project. We've operated for thousands of consecutive days without a single lost-time incident. Marlin Steel offers same-day shipping for all in-stock orders, so you get the parts you need faster. We also maintain high in-house quality standards with our Quality Engineered Quick® guarantee.
Contact Marlin Steel Today for Custom Parts
Ultrasonic cleaning offers the perfect balance of gentle contact and aggressive cleaning that commercial and industrial companies around the world rely on. Baskets with weak metal or plastic inserts fail over time, driving up repair and replacement costs.
At Marlin Steel, we pride ourselves on creating high-quality custom baskets made from stainless steel that outlast and outperform. Contact us or request a quote to see how our custom capabilities can benefit your project. To learn more about our capabilities, please download our new e-book.