Marlin Steel manufactures high-quality stainless steel industrial carts using the latest technology in design and automation. We rely on finite element analysis (FEA) to ensure our industrial steel carts perform optimally in their intended application. Our stainless steel industrial carts undergo FEA during the early design phase to help us evaluate the materials and designs before physical production, allowing us to streamline the entire design and development process.
Learn how we use finite element analysis on our products and what the results mean for our customers.
What Is Finite Element Analysis?
Finite element analysis (FEA) is a process where an assembly or component is simulated under certain conditions to assess it under the finite element method (FEM). FEA is a type of computer-aided engineering (CAE) tool for analyzing how the part or assembly will respond to real-world conditions. FEA simulates physical stress to eliminate physical prototyping requirements and allows for the optimization of components during the design process.
Manufacturers implement FEA for thermal, vibration, and structural analysis. Designers use FEA to help them develop products while they are in early development stages, as their CAD files can be easily modified. This helps shorten turnaround times and ensures we can implement the analysis results quickly in the design phase.
FEA delivers several benefits, including:
Reduced costs: FEA helps create higher-quality products with minimal product waste. This includes eliminating prototyping costs.
Speeds up time to market: FEA quickly and efficiently allows engineers and designers to simulate test conditions without having to manually inflict such conditions on a physical prototype. This accelerates time to market while reducing wasted time and resources.
Improved part performance: FEA allows for various conditional tests and provides accurate and detailed results. Thus, it can improve the final product's performance.
What the Results Tell Us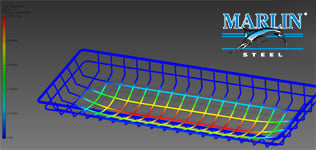 FEA delivers two critical results that help us analyze components for performance and quality: the von Mises stress value and the safety factor. The von Mises stress value determines the point at which a ductile material like metal will fracture or yield. If the load of the material is greater than or equal to the yield limit of the material under simple tension, the material will fracture.
The safety factor is the quotient of the part's strength divided by the input stress. This quotient indicates the confidence level of the accuracy of the part's strength and stress.
FEA Ensures Manufacturing of Superior Wire Carts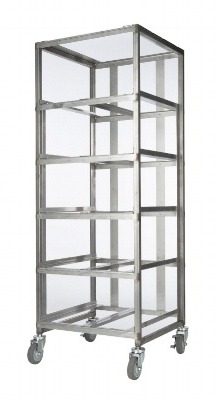 Marlin Steel's industrial carts are ideal for industrial drying processes, pharmaceutical and food production, and industrial material handling. Our heavy-duty stainless steel carts can be made to our customers' dimensions and maximum load weight per basket or tray, as well as incorporate special features like coverings, drainage, and airflow. We can also make our industrial metal carts meet temperature and chemical exposure requirements.
Our carts can be made from steel, stainless steel, and Inconel depending on the customer's strength, durability, and chemical resistance needs. Our carts offer the versatility to move large loads easily and can be sanitized with ultrasonic cleaning methods.
FEA ensures that our industrial wire carts meet our clients' expectations for performance and quality. We can subject the material and design to testing that simulates typical working conditions during the design phase and quickly revise aspects to improve performance. We rely on the latest technology, including FEA and CAD, to evaluate our designs and deliver high-quality products that suit your needs.
The Best Heavy-Duty Stainless Steel Carts on the Market
FEA is critical to developing high-quality, high-performance products. It simulates various conditions a product would face in the real world to quickly and inexpensively analyze design and materials for optimal performance. FEA provides the von Mises stress value and safety factor results to help designers understand when the material will yield to fracture and the design's strength under stress. Marlin Steel relies on FEA to design and engineer American-made products that meet clients' needs.
At Marlin Steel, 20% of our team is comprised of industrial, chemical, or mechanical engineering degree holders. We have six patents and continue to innovate every day. Contact us or request a quote to learn more.