Telecom equipment is heavily dependent on high-quality, well-organized wiring and cable assemblies. Wire basket cable trays keep sensitive wires, cables, connectors, and other communication system components tidy and safe from harsh external conditions. By organizing your telecom cables, you can locate the source of problems quickly and prevent confusion during maintenance and repair operations. In addition, telecom wire cable trays secure your coax cables to prevent them from being cut or abraded in busy, high-traffic operations.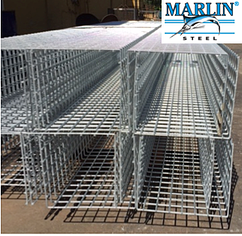 At Marlin Steel, we pride ourselves on providing the highest quality cable management solutions for our customers in the telecom industry. We know that quality materials can make all the difference for reliable wire and cable organization. That's why our wire cable trays use corrosion-resistant stainless steel, for dependable cable management trays that will not rust or oxidize over time. As the largest domestic supplier of wire forms for the telecom industry, Marlin Steel has established a reputation as an outstanding cable tray manufacturer. Using state-of-the-art robotic wire bending technology, we have produced over seven million wire forms without a single quality defect.
What are the Various Types of Cable Trays?
It's not enough to have high-quality wires and cables for your telecom system, you also need to have cable management solutions that suit the particular needs of your location and applications. To ensure optimal cable and wire organization, Marlin Steel offers a selection of cable trays, management panels, supports, and rings.
Cable Trays and Troughs
Cable trays and troughs provide support and easy access through open top and open back enclosures. Our galvanized or stainless steel wire cable trays are available with solid bottom designs, so you can support heavy insulated cables and stack them to make the most of vertical space. By incorporating a series of vertically integrated wire trays and troughs, you can organize and protect large cables and reduce the floor space taken up by bulky arrays.
Cable Management Panels
Cable management panels offer an additional level of protection and structure through the integration of sheet metal and finished wire forms. For optimal performance, Marlin Steel uses heat treatments and surface finishing processes to ensure that trays and panels do not damage or cut sensitive cables.
Cable Supports and Rings
For more customized support, Marlin Steel offers a variety of cable supports and rings that can be engineered to fit your cable organizing needs. Rings and supports are particularly useful for mounting cables to walls, cabinets, and other vertical surfaces. They can be used in conjunction with trays, baskets, panels, and other cable management methods to support the weight of cable systems and keep cable groups together.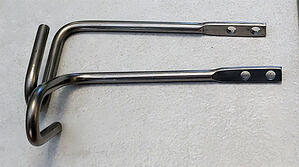 Why Should You Use Wire Cable Management in Your Facility?
To keep telecom operations running smoothly and efficiently, cable management solutions are critical. By using a custom selection of specialized wire forms and management panels, you eliminate the problems caused by disorganized cable arrays.
Wire cable management systems offer a variety of benefits for telecom facility operations:
Eliminate Hazards.

When you incorporate quality cable management methods such as wire baskets, panels, rings, and supports into your operation, you eliminate trip hazards due to cables in walkways.

Increase Floor Space.

You free up floor space and remove obstructions, which makes it easier to move equipment, furniture, and materials throughout the area.

Better Organization.

Cable management systems keep your cables organized, which reduces the amount of time it takes to conduct upgrades, enhancements, and repairs.

Better System Performance.

You enjoy better system performance, as cables are less likely to be damaged or disconnected in error.
What Are the Key Benefits of Using Wire Forming?
There are many manufacturing methods on the market for telecom cable organization and protection. Wire forming offers numerous advantages over other cable management materials and methods. Benefits include:
Enhanced Ventilation.

Wire cable baskets ensure that your cables are ventilated, which prevents overheating and moisture buildup.

Superior Organization.

Cable baskets and trays contain your cables in one well-organized space, creating more room for other operations.

Enhanced Safety.

Less clutter from wires, cables, and other equipment reduces the potential for accidents due to trips and falls.

Better Protection.

Durable wire baskets provide optimal protection from cutting, abrasion, and other damage caused by exposure to working conditions and day-to-day operations.

Improved Efficiency.

A more organized workspace will be more efficient and productive. With wire forms, you can keep your cables organized and accessible, for quicker, more effective internal operations.

Quicker Repairs and Maintenance.

Technicians can locate wires more quickly and easily with well-organized cable arrays. Not only does this reduce labor costs, but it also prevents costly errors and downtime.

Reduced Fire Risk.

Wire formed cable baskets reduce the risk for electrical fires by protecting wires from nicks and cuts and reducing potential contact with flammable materials in the surrounding area. Since the wire forms themselves are resistant to heat and flame, they will not burn if exposed to an electrical short.

Smooth Surface.

Galvanized and stainless steel wire are the ideal solution for telecom wiring due to their smooth surface finish. The flawless surface eliminates the potential for nicks and cuts, for safer and more reliable cable operations.

Open Construction.

Our open construction ensures easy access for upgrades, installation, repairs, maintenance, and inspections.
---
Why Should You Choose Marlin Steel Wire Forming Solutions?
Marlin Steel's wire forming processes use cutting-edge robotics technology to form specific lengths of stainless steel with exceptional speed and precision. We use a variety of fabrication processes to ensure outstanding consistency without deformation or imperfections. We use chamfers, coining, swaging, and piercing to customize each wire basket to your particular needs.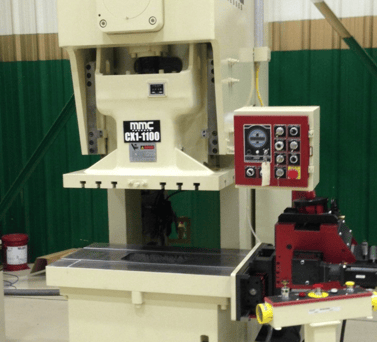 Our resistance welding machines create precise joints to ensure that the entire wire form is solid and dependable. By using the latest welding technology, including Marlin's MFDC welder, we can weld each component part while introducing minimal stress into the steel, ensuring optimal structural strength and support. Unlike other welding methods, Marlin's resistance welding process does not warp or bend the wires, so each wire form retains the desired shape throughout the manufacturing process.
With decades of experience, Marlin manufactures custom stainless steel cable access trays and wire forms with the utmost speed and efficiency. Our comprehensive wire forming capabilities and experienced team of engineers can turn around a full set of custom access trays for your facility in a matter of weeks. We are committed to delivering Quality Engineered Quick® products made in the USA.
Exceptional Wire Cable Management Solutions From Marlin Steel
Whether you need small wire forms for your local office or large-scale custom cable trays for industrial telecom cable management, Marlin Steel has the capabilities to produce custom wire forming solutions to meet your needs. Our team of mechanical engineers and metalworking specialists is dedicated to creating superior quality products for our customers in the telecom industry and beyond.
All of our products are manufactured to meet and exceed the most stringent industry standards and customer expectations, and we maintain a quality management system consistent with ISO 9001:2015 standards. You can rest assured that your cable management solutions from Marlin Steel will provide lasting support and organization for your complex cable arrays.
Download our eBook to learn more about Marlin's wire forming processes. For more information on ways that our wire forming capabilities can streamline your telecom cable systems, contact our engineering experts or request a quote today