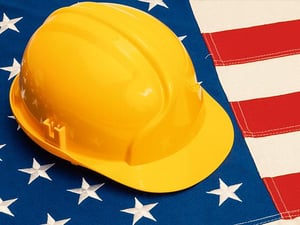 In a recent tweet, U.S. President Donald Trump revealed that he had a, "Very good telephone conversation with President Xi of China" and that he would be having an extended meeting with him at the G20 Osaka Summit in Japan. ABC News picked up on the story as part of their ongoing coverage of the trade war between the U.S. and China.
On one section of the ABC News broadcast called "The Briefing Room," ABC News Senior National Correspondent Terry Moran traveled to Marlin Steel's Baltimore factory for an onsite interview with the company's President and CEO, Drew Greenblatt. In this interview, Moran asked Marlin's CEO about how China's unfair trade practices have affected Marlin Steel in the past, and how the tariffs levied by President Trump's administration may impact businesses.
Here are some highlights from the ABC News broadcast:
How Rampant IP Theft in China Impacts American Manufacturing
One of the most pervasive ongoing problems with China's unfair trade practices is the rampant intellectual property (IP) theft in China. As Drew Greenblatt notes in his interview with ABC News:
"China does many things to negatively impact Marlin. For example, they steal our intellectual property. They copy and paste our website onto their own website. Sometimes, they do such a bad job they keep our part numbers in the cutting and pasting—and even worse, sometimes they inadvertently keep our name in the cutting pasting."
These Chinese companies then attempt to sell Marlin's designs as their own original innovations—undercutting Marlin because they didn't have to spend thousands of dollars on research and development to make the baskets.
This is a story that is repeated throughout the American manufacturing industry. Every day, innovative companies are punished for doing things the right way and working hard to create brilliant new solutions to problems because some other company from China can simply steal their work and pass it off as their own.
China's Subsidization of Manufacturing Companies to Drive Down Prices
Another unfair trade practice used by China is their intense subsidization of their country's companies. In America, if a business doesn't charge enough to cover its costs, it will eventually fail. However, as Drew Greenblatt noted in his interview, in China they, "Subsidize their steel, they subsidize their labor, they foul their environment."
This creates an unfair trade advantage for Chinese companies because they don't have to worry about labor costs, material costs, or environmental protection measures—on top of not having to pay to R&D their own IP because they actively steal designs from American manufacturers.
In the past, Marlin was faced with near extinction because of cheap Chinese knockoff baskets that were being sold for less than the price of the steel needed to make them in the first place. And Marlin is not alone in this. Many American manufacturers face the threat of closure because of IP theft and other unfair trade practices from China.
There is a Deep Divide on Opinion Concerning the Tariffs
Marlin Steel, and many other American manufacturers, support the tariffs on Chinese-made products because it helps to protect their businesses from unfair competition and acts as a means of punishing the unfair trade practices used by China. However, not every American business supports the tariffs.
In the ABC News broadcast, the Briefing Room team conducted a live interview with Bill Weimer and Bruce Zoldan, the owners of a fireworks company called Phantom Fireworks. This company buys Chinese-made fireworks and resells them throughout the USA to consumers to help them celebrate special occasions (such as birthdays or major holidays).
During the interview, Bill Weimer was asked about the impact of the tariffs on his business after hearing about the IP theft carried out by Chinese companies. In response, he noted that: "There is no alternative source for us to get the fireworks. We have to stay with China. China has been good to us—we don't have issues of piracy."
Companies like Phantom that don't manufacture products themselves, but rely on being a distributor of products made in China, feel the pain of tariffs more acutely than American manufacturers do. And, because these companies are reliant on Chinese-made goods, an increase in cost will either eat into their profits or force them to pass the cost increase on to their customers.
There is no perfect solution to this problem. Without the tariffs, Chinese companies will be allowed to run roughshod over American businesses. With the tariffs, many consumers and companies reliant on Chinese-made goods will be inconvenienced with higher prices on their daily necessities.
However, all that American manufacturers want is a level playing field. As Marlin's CEO states in his interview: "We just want to have a fair transaction. They don't steal from us, we don't steal from them and then we're game on." Hopefully, the Trump administration's talks with Chinese officials can bring us closer to that level playing field.
Curious about Marlin Steel and American manufacturing? Reach out to the team at Marlin's Baltimore factory today!