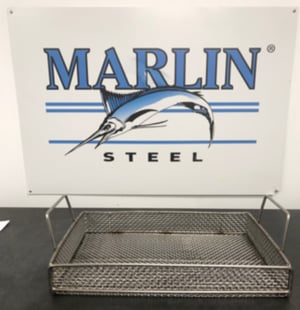 Modern machinery wouldn't be where it is today without the humble ball bearing. Although there's evidence that ball bearings were used in ancient times, the first patent was issued at the end of the 18th century. However, the early 20th century saw ball bearing improvements that helped revolutionize modern technology. The great advancements in military, manufacturing, and automotive technology were all made possible thanks to ball bearing evolution.
Due to their effectiveness at reducing friction in machinery, ball bearings are still a staple in modern technology. However, the manufacturing of these essential components can be expedited with the right steel baskets. Find out why Marlin Steel's metal baskets can facilitate ball bearing manufacturing more effectively than any other alternative.
What is a Ball Bearing?
Ball bearings are essential for making movements between machinery smoother and easier while reducing friction. By utilizing balls as the rolling elements, they can rotate very quickly but cannot support significant loads. They have two essential roles:
Ball bearings transfer motion.
Ball bearings transmit forces.
Ball bearings are part of a large class of anti-friction bearings, the other being roller bearings. There are several varieties of bearings for different applications, all for making machinery more friction-less. .
Ball Bearing Types and Sizes
Ball bearings come in a wide variety of types and sizes, all suited for different purposes. At a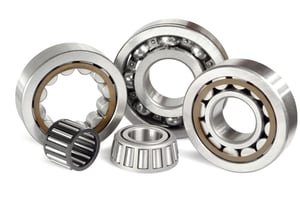 glance, there are four common types of ball bearings.
Deep Groove Ball Bearings
Deep groove ball bearings are the most common type of ball bearings used in industries. Their simple design and easy maintenance is transferable to multiple types of applications. The low torque of deep groove ball bearings enable them to be ideal for high speed functions.
Self-Aligning Ball Bearings
These types of ball bearings feature a two-row ball track groove with a spherical surface. Since the center of the outer track surface matches the center, these ball bearings have the ability of self-alignment. They are ideal for absorbing radial forces, but not suited for large axial loads.
Thrust Ball Bearings
Consisting of two bearing discs with grooves for the balls, thrust ball bearings can sustain axial loads, but cannot for radial loads.
Angular Contact Ball Bearings
These ball bearings are characterized by both inner and outer ring raceways. These are displaced relative to each other at the right angle. This allows angular contact ball bearings to accommodate both radial and axial loads.
How Ball Bearings Manufacturers Use Marlin Baskets
Marlin Steel's hardware baskets offer a variety of advantages for ball bearings manufacturers due to their structural integrity and design. Each basket is manufactured out of American-made stainless steel here in the United States and can be customized for your unique preferences.
Durability
All of Marlin Steel's baskets, whether crafted for ball bearings or other applications, are designed and manufactured in the United States by Marlin's engineers and are made of the highest quality stainless steel. Stainless steel can hold its structural integrity through a variety of harsh processes, whether high temperatures or caustic chemicals. The durability of stainless steel cannot be matched to alternatives, such as plastic, which cannot sustain their structure when exposed to certain environments where stainless steel is unaffected.
Holds Parts Securely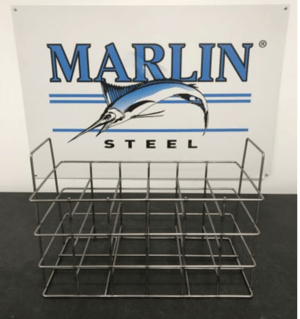 Ball bearings are small - but incredibly important - components. Due to their size, ball bearing manufacturers must be confident that they can be held securely during processing. Marlin Steel's baskets are ideal for small parts, whether for storage or parts washing. Marlin's ball bearing baskets are outfitted with lids so parts inside have no chance of escape. Manufacturers can remain confident that their small, delicate parts will remain inside the basket during harsh washing processes or other applications.
Supports American Manufacturing
When you purchase Marlin Steel ball bearing baskets, you're not only receiving the top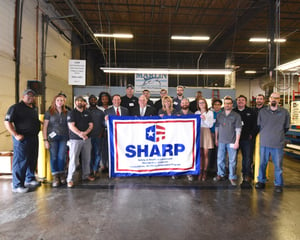 quality products in the market, but also supporting American manufacturing and engineering. All of Marlin's products are made in the United States with American-made steel. You can remain confident that you are buying from a responsible manufacturer that prides itself on employee safety. Marlin Steel has been recognized by SHARP (Safety & Health Achievement Recognition Program), an OSHA cooperative program that awards small business employees for their exemplary employee safety achievements, for its track record of employee safety.
Interested in a Marlin Steel ball bearings basket for your manufacturing applications? If you need advice for picking the right stainless steel basket for your needs, reach out to the team at Marlin Steel. Marlin's engineering team has years of experience in crafting custom stainless steel wire forms to fit a wide variety of applications. They can always design one with your specific requirements in mind if you cannot find a basket to suit your specific requirements.