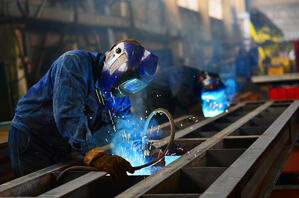 Marlin Steel is constantly working to improve its ability to make better custom wire forms and sheet metal fabrications that can meet increasingly tight production tolerances. To this end, Marlin frequently invests in new technology and tools to give the workers on the assembly line the best resources possible.
However, what do the best technologies and tools matter if you don't have the best people to run them?
This was the question on the mind of Marlin's CEO during the formulation of strategies such as the Marlin Skills Matrix and training resources. But, there's one more thing that Marlin Steel does, something that has earned recognition from organizations such as the Society for Human Resource Management (SHRM): Using core competencies rather than just credentials for screening new hires.
Why Marlin Switched to Competency-Based Hiring Evaluations
It happens all the time: a new hire has great recommendations and a robust résumé, but for some reason they just can't work well once hired. It could be that they don't work well in a team environment, lack the ability to take direction, or just aren't very adaptable to change.
Whatever the reason, this "paper-perfect" candidate just wouldn't work out, and Marlin would lose on all of the time, money, and effort invested in trying to onboard a bad fit to the workforce.
Worse yet, these bad fits had a negative impact on the company culture, driving up the rate at which other workers would leave the company. Such issues revealed that changes needed to be made to Marlin's existing hiring practices.
Benefits of Using Competency-Based Hiring
By focusing on competency-based selection rather than on more traditional hiring metrics, Marlin Steel was able to identify a new hire candidate's attributes, such as their mechanical reasoning skills, adaptability, drive to continue learning, and willingness to take orders.
While having an employee who already knows the equipment and regulations is nice, it's far easier to train someone who's willing to learn and adapt to new processes than it is to change someone's personality to fit their environment.
The use of competency evaluations has helped Marlin immensely in recent years, leading to better hires and reduced turnover. The low rate of turnover, combined with each individual's drive to keep learning, helps make Marlin's workforce incredibly skilled and robust, able to handle numerous challenges that larger, less skilled workforces struggle with.
Marlin Steel's management is proud of the team we've assembled over the years. With the help of these trained, dedicated, and exceedingly competent individuals, Marlin is poised to keep making the best custom steel baskets for clients in almost any industry.
See how Marlin creates superior custom baskets for different industries today!