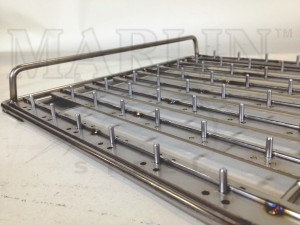 A large European engineering company in materials technology, mining and construction purchased an ultrasonic washing machine at one of its facilities. It sought out Marlin Steel to design and build a carrier and "pin baskets" of steel wire and 304 grade stainless steel to hold firm a variety of fixtures to pass through the wash process. The carrier also had to be compatible with an automated gentry loader that supplied the baskets to the washer.

The pin baskets had to be designed so that they would be positioned precisely for robot grippers to easily access them after they moved along a conveyor from wash to assembly. Marlin engineers used self-clinching pilot pins to limit welding heat in order to maintain very tight tolerances.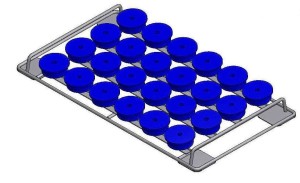 Marlin engineers had to design the trays to maximize runoff with a slight pitch, but the baskets still had to hold the parts securely enough not to be scratched during the turbulence of the wash process -- the key challenge in making parts wash baskets. The design also had to allow for the parts to be removed quickly and efficiently by workers and robots.