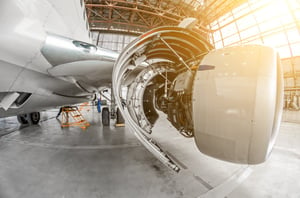 Maintenance, repair, and overhaul (MRO) operations in the aerospace industry are critical for keeping jet turbine blades, vanes, engines, and other aircraft parts working properly and effectively. Proper MRO is necessary to keep or restore aerospace parts to their optimal working condition and ensure they are operating as safely as possible. However, MRO can take up precious time.
Luckily, there are ways to make the MRO process more effective and efficient. Marlin Steel has engineered custom jet turbine blades and vanes baskets to facilitate quicker MRO operations. With a custom aerospace basket, you can transport blades and vanes easily without worry of damaging the aircraft parts.
Vane and Blade Baskets for Jet Turbine Blades
Marlin Steel has designed a wide variety of vane and blade baskets to help improve efficiency for your own MRO needs. These custom baskets are ideal for transporting both jet turbine blades and vanes.
Based on your preference, these baskets can be designed with or without a lid and are all built with Grade 304 aircraft grade stainless steel.
5 Reasons to Use Custom Aerospace Blade and Vane Baskets
Custom aerospace baskets for blade and vane transportation can contribute to improving MRO safety and efficiency, among other things. Here are some reasons why custom baskets can help improve your MRO process.
1) They're More Durable for Harsh Parts Washing Processes
Marlin's blade and vane baskets are made of high tensile strength and corrosive-resistant stainless steel. So, they're ideal for aerospace parts washing. Since parts washing can involve either caustic chemical baths or ultrasonic cleaning, the basket needs to be durable enough to handle the harsh conditions.
Each Marlin Steel aerospace basket is made of Grade 304 stainless steel, which is more durable than other aerospace metals and highly resistant to corrosion thanks to its protective oxide layer. If you're looking for a parts washing basket that will last for years, look no further than Marlin Steel's wire form baskets.
2) Customization for Materials Handling
Blade and vane baskets are ideal options for a variety of material handling purposes. Whether you need a basket for storage or for jet turbine blades washing, Marlin Steel is able to customize the blade and vane baskets to fit your needs. Many custom aerospace blade and vane baskets can be outfitted with a lid to keep their contents secure. Each basket can be customized with an optional heat treat rack to suit your MRO needs.
3) Improve Efficiency with Steel Carts
Marlin Steel has designed aviation carts to help reduce the time spent transporting aircraft engines during the maintenance, repair, and overhaul process. Each blade and vane wire basket has an optional mobile cart to help facilitate this process. Since these parts are too big to be carried by hand, but too delicate to be carried by a hoist, safely moving these parts to the next operation can be a dilemma.
Aircraft grade stainless steel carts on wheels can answer this challenge. With the adjustable ratchet straps, blades and vanes can be strapped into a round cart and moved around at ease without falling out. Since jet turbine blades can be heavy, each cart can hold up to a heavy load capacity of 600lb and protects each part from getting hit from the side by adjacent obstructions with its high side walls.
Additionally, the gliding casters make moving the basket smooth and easy for employees. The quicker it is to move aerospace parts during the MRO process, the higher your productivity.
4) No Metal-on-Metal Contact
When moving your blades and vanes in a cart, you need to be assured they are protected. The FAA requires that blades and vanes do not scrape each other. Even the smallest scratches can send blades and vanes out of commission. Unlike complete metal carts, a well-designed basket will make sure that blades and vanes do not come into contact with each other or other obstacles.
These mobile ensure protection with neoprene liners and other coatings that cover the basket's floor. The liners prevent damage from metal-on-metal contact and keep blades and vanes from being damaged during movement between processes.
Additionally, each custom aerospace steel cart basket has robust, thick side walls to prevent parts from colliding with other objects while en route, such as forklifts. This feature helps keep the aerospace parts from being damaged or scratched.
5) Specifically Designed for Engines
Marlin Steel's blade and vane baskets are designed to fit specific engines, so you know that the basket will fit your particular engine just right.
Marlin Steel has baskets specifically for these engines: CFM, Pratt & Whitney, and Rolls Royce.
Check here for the full list of blade and vane wire forms for these engines.
Marlin Steel's Aircraft Grade Stainless Steel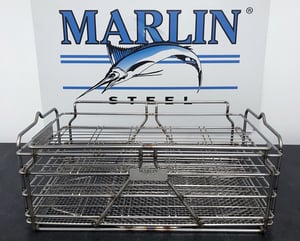 Aerospace steel is a durable material for aircraft applications and can facilitate better parts cleaning than other aerospace metals, such as aluminum. Baskets made of aerospace steel have strong corrosion resistance and higher temperature tolerance, so they can be effective for years. Additionally, grade 304 steel has a high shear modulus and melting point so its an ideal material for wire carts used for parts washing and other processes involving harsh temperatures.
Interested in how aircraft grade stainless steel blade and vane baskets can improve your aerospace MRO process? Reach out to the team at Marlin Steel today!