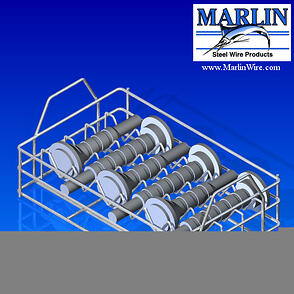 One of Marlin Steel's core products is our wire mesh baskets. Wire baskets were Marlin's main product back when our current owner, Drew Greenblatt, first acquired the company years ago. However, the wire mesh baskets that we make nowadays are worlds away from the commodity bagel baskets that we were once known for.
Now, Marlin's baskets are precision-manufactured specialty products. Where the old bagel baskets could have a margin of error up to an entire inch, the products we make for customers these days have microscopic margins of error: 1/4,000 of an inch or less. Thanks to our investment in modernized manufacturing equipment, we are able to fulfill what would have once been impossible orders quickly and efficiently.
Making Better Wire Baskets for our Clients
When a customer puts in an order for us to produce a custom basket for them, we make sure that we know:
The maximum dimensions of the basket.
What the basket is being used for.
What temperatures/chemicals the basket will be exposed to.
How much weight the basket will have to support.
The dimensions of any parts the basket will need to hold.
Knowing the purpose of the wire basket in addition to the chemicals and temperatures that it will be exposed allows our engineers to recommend the best combination of alloys and coatings to meet the demands of your specific process. Knowing the dimensions of the machine that the basket will be placed in, as well as the dimensions of the parts the basket will be holding, gives our engineers the ability to design a basket that will fit your machine like a glove.
Once we have the information we need for your wire or perforated sheet metal material handling basket, our engineers get to work. They create a design for your material handling basket using computer software, select an appropriate grade of stainless steel, choose a coating for the basket that will provide the best protection for your process, and put all of this information into a proposed design document for you to review.
In many cases, we can go from a basic proposal to full-scale production in about a week.
The Design Proposal
One of the most critical concerns when designing a custom-made wire mesh material handling basket is that the dimensions of the basket are just right. Too much space, and a part could rattle around excessively, creating a risk of damage to that part. Too little space, and the part will not fit in the first place. Naturally, the tolerance for extra space in a materials handling basket will differ based on the individual parts and washing processes involved.

This is part of the reason why Marlin generates a design document for every project for our customers to review. Each proposed design document records not only the dimensions of the wire form and the materials and coatings used therein, but we also make notes about the final design to address potential concerns. For example, in our design doc for a parts washing basket for one of our clients, we noted the specific type of welding that would be used, and that weld spatter from that type of weld would not be a risk to their parts.
The design documents with our annotations show our customers exactly what they can expect when they receive their wire forms once they're approved. Because our wire shaping and laser cutting processes are done using precise, automated manufacturing equipment, our customers can rest assured that they will receive consistent results once their custom wire forms are put into production. Every basket from the first unit off of the line to the 10,000th unit will be of uniform quality and error-free.
Take Advantage of Marlin's Expertise Today
Our team of experienced manufacturing professionals is here to help you. Contact us today and discover how we can fulfill your parts handling needs.