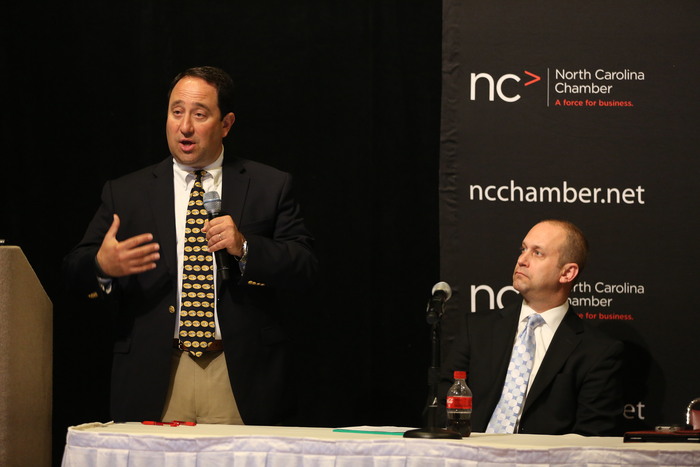 For Drew Greenblatt, Marlin Steel's president and owner, the fight to put a stop to the ever-looming threat of IP theft and software piracy is an important cause. Across America, many businesses, both large and small, are relying on their own unique intellectual properties and patented processes to give them the edge they need to stay competitive in what can be a very difficult market.
When foreign companies steal the copyrighted properties of American businesses and start flooding the market with cheap copies, it can cause irreparable damage. Companies whose intellectual property is stolen lose their unique advantage over competitors, one that they may have spent significant amounts of money to develop, only to see some other company make a copy of the product without having to account for dollars spent on R&D.
It is because of the immense harm that IP theft causes to American businesses that Drew Greenblatt has dedicated so much of his time to helping American companies fight against this kind of unethical and underhanded business practice.
Drew recently spoke to the North Carolina Chamber of Commerce regarding these topics, and you can watch the full video here.
Making People Take Notice
As a part of the fight against IP theft, Drew organized the creation of the National Alliance for Jobs and Innovation (NAJI) to help American manufacturers fight piracy and IP theft whenever and wherever it happens.
As the Chairman of NAJI, Drew frequently addresses lawmakers, businessmen, and politicians, working with them to protect American business and curtail the efforts of thieves. Recently, Drew spoke before the North Carolina Chamber of Commerce to help raise awareness of the situation that faces manufacturers and other businesses in America.
Drew's presentation to the members of the Chamber of Commerce highlighted the challenges facing companies today. Important takeaways from the presentation included:
How IP & innovation are responsible for 40% of economic growth and employment in the U.S.
The fact that U.S. Manufacturing companies account for 69% of private sector R&D expenditures and 94% of all patents filed in the U.S.
The rate of software piracy among foreign businesses based in Indonesia, China, Russia and India exceeds 50%!
When a competitor can make the same product without having to invest in R&D, they can undercut the rightful IP owner in their own market, drowning honest businesses in a tide of cheap copies. Getting the people who are responsible for creating and enforcing copyright law to see the problem and take action can mean the difference between success and death for American companies who create fresh, original IPs.
Working Together to Prevent Theft
Through events such as the speech before the Chamber of Commerce of North Carolina, NAJI meetings, collaboration with NAM, and the everyday efforts of NAJI members, we can work together to fight piracy and stop IP theft in its tracks, ensuring a fairer market for every company that works hard to bring their creations to their customers all over the globe.
You can join the more than 380 companies that are fighting to protect American businesses from the theft of their intellectual property today. Become a proactive part of the effort to defend your business from the pirates and thieves who are trying to turn a profit from your hard work.