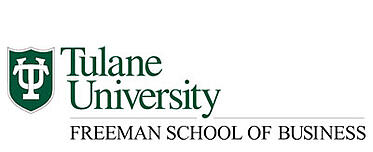 Back in 1991, Marlin Steel's current president, Drew Greenblatt, graduated from Tulane University's MBA program. This university, which (at the time of this writing) is ranked #54 on the U.S. News & World Report's "Best College" list, is located in New Orleans, Louisiana and was founded back in 1834, making it a venerable institution of higher learning.
At this college, the student to teacher ratio is 9:1, which helps to ensure smaller class sizes and more time for teachers to interact with and help students to develop. Of the various programs offered by the University, business-related courses are among the most popular.
In particular, there is an evening class for MBA students who are working full-time and need a course that is compatible with their schedules. In this class, hard-working entrepreneurs of the future gather to study and learn how to develop leadership skills. The students study characteristics of leadership and learn about their own strengths and weaknesses.
Learning from Experience
Over the last few weeks, the "Executive Leadership" class has held a series of presentations/Q&A sessions with a variety of notable graduate students. These sessions are designed to allow the students in the class benefit from the insights and experiences of others who have owned or operated a business.
Recently, Chris McCusker, Ph.D. of the A.B. Freeman School of Business at Tulane University invited Marlin Steel's president to give a presentation at the evening class.
Why Marlin Steel?
When Drew first purchased Marlin Steel in the late 90s, the company was a fairly successful manufacturer of commodity bagel baskets for customers all over the country. Shortly afterwards, though, the advent of the Atkins diet turned "bagel" into a dirty word for many Americans, sharply cutting demand for new bagel baskets. Add to this the introduction of foreign competition who could sell baskets for less than what it cost an American manufacturer to get the steel, and you had a perfect set of conditions for ensuring the end of a company that thrived on bagel basket sales.
Yet, Marlin Steel is still around and more profitable than ever.
Instead of collapsing in the face of new challenges and a declining market, Marlin Steel's leadership found ways to expand the company's markets into fields where quality was the primary concern. Marlin Steel soon found a new niche manufacturing high-precision custom metal forms for clients using sophisticated factory automation and highly-trained personnel who are motivated not by threats against their job, but by a generous bonus program with tough but fair & achievable goals that helps them pay their bills each month.
In short, Marlin Steel's president was asked to present at this class because this company is an example of how the right leadership can positively influence a company.
Drew, for his part, is only too happy to share his hard-earned experience with others so that the future generations of leaders produced by his old college know just how effective a company that values and rewards employees can be in the marketplace.
The Discussion Format
On the day of the visit, the class will convene at 6:30, where a group of students will give a presentation on a subject related to Marlin Steel's story. After the students are finished presenting, Drew will give his own presentation and then there will be a back and forth discussion between the class, the teacher, and Drew.
It is our hope that by engaging business students in discussions such as this, they can benefit from the insights and knowledge of our company, and bring that to bear in their own business ventures. If it helps to make sure that one future company president of any business appreciates the importance of developing front-line workers, then it will be time well-spent.
We would like to thank Tulane University for this opportunity to share our insights, just as we have done at MIT, University of Maryland, Dickinson College and Loyola College in the past.
If you would like to see if Marlin Steel can be available for similar presentations at your University, please contact us with a request.