Stainless steel is a common choice for food processing and medical and pharmaceutical applications because it's easy to clean, corrosion-resistant, and long-lasting. Within the food industry, stainless food processing racks and mesh baskets must be properly taken care of to uphold industry standards for sanitation throughout their service life.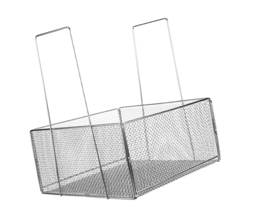 How to Clean Stainless Steel Baskets in the Food Processing Industry
Keeping your stainless steel baskets clean is essential to ensure compliance with safety regulations and create a positive experience for your customers. Improper cleaning techniques using harsh chemicals can result in staining or structural damage to the product. Stainless steel baskets with handles are the most common piece of equipment for deep frying foods in commercial kitchens. Cleaning these items is easy and only requires materials you can already find around the kitchen:
Gather your cleaning supplies: paper towels, a sponge or soft-bristle brush, dish soap, and warm water. You may also use baking soda and/or vinegar.
Allow your stainless steel mesh baskets to cool if they've been recently used in the fryer or another high-temperature setting.
Use paper towels to remove loose food residue.
Plug the drain and place the stainless steel rack or basket in the sink.
Submerge the basket in hot water and dish soap (or vinegar at a ratio of nine parts water, one part vinegar).
Soak it for about 10 minutes.
Use the sponge or brush to scrub with circular strokes, removing the oil or food residue on the inside and outside of the basket.
Rinse or soak the basket in hot water for another 10 minutes.
Double-check that all grease and residue have been removed, and repeat the process as necessary.
Dry the stainless steel wire basket thoroughly before using it again.
Benefits of Stainless Steel Baskets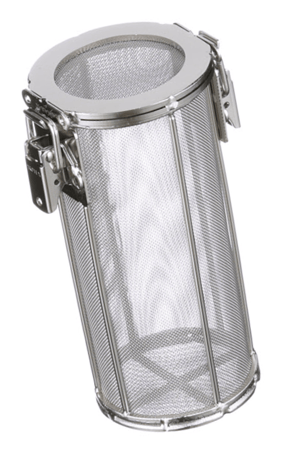 Stainless steel mesh and wire baskets are popular in the food processing industry because they're durable and easy to clean. Here are just a few of the advantages of using stainless food processing racks and baskets:
Withstands extreme temperatures ranging from -150 °F to 1600 °F, making them suitable for frying or freezer storage
Corrosion resistance
Oxidation resistance
Scratch resistance
High tensile strength
Excellent impact resistance
For these reasons, you'll find stainless steel baskets with handles, stainless steel round baskets, wire racks, and more across various food processing facilities. Stainless steel is an economical, versatile choice for cooking and food storage solutions. When you work with an experienced manufacturer, you can create custom-engineered stainless steel products that are a perfect fit for your commercial kitchen or industrial food packaging or storage facility.
Choose Marlin Steel for Custom Wire Baskets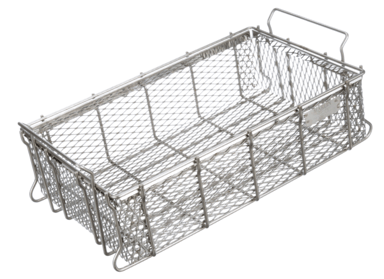 With our extensive capabilities and advanced technology, Marlin Steel can build custom wire baskets and other metal products quickly and with consistency. Our advanced robots work around the clock without tiring, and each wire form is assembled with precision to ensure your tolerances and other requirements are met, no matter the size of your order or the complexity of the product. Take a closer look at our MIG and TIG welding in action.
We make all of our stainless steel baskets and other metal products in the United States with fast lead times, with food processing as one of the major industries we serve. Our experience with a range of materials, finishes, and coatings allows us to engineer a custom solution that fits your application. Contact us today if you have questions about the benefits of stainless steel baskets in the food industry or how to care for your stainless products. To start your order, request a quote for your project.
Since 1968, Marlin Steel Wire Products LLC has specialized in manufacturing custom stainless steel baskets, rolling carts, brackets, hooks, wire handles, racks, and many other steel wire and sheet metal products for industries like aerospace, automotive, medical, defense, and food processing. We offer laser cutting, robotic welding, 3D printing, and other advanced techniques to ensure our clients receive the high-quality stainless steel wire baskets they need for their applications.