Since 1968, Marlin Steel has been manufacturing specialized metal wire forms, such as stainless steel parts, washing baskets, S-hooks, racks, and sheet metal handling containers to name a few. We also manufacture custom wire forms which include wire pail handles, hooks, and steel wire baskets. In this blog, we will put a spotlight on our wire pail handles. They are available for 1-gallon or 5-gallon loads and are a ready-to-use product. Our pail handles (as with all our products) are made in the United States with 100% American-made steel.
Browse our in-stock wire pail handles and learn more about them here.
Quality: The Best Wire Pail Handles on the Market
Baltimore Automatic Wire Forming Corporation (BAWFC) is the oldest and largest maker of handles in the United States, selling millions of pail and steel wire bucket handles across the country and exporting them around the world. Marlin Steel bought BAWFC in November 2020 and hired everyone from the BAWFC team to be part of the Marlin Steel family.
As an ISO 9001:2015-certified company, Marlin Steel is dedicated to quality. Our BAWFC employees now help us make high-quality pail handles, paint can handles, bucket handles, and wire handles with or without grips for plastic or steel cans.
Watch our video below to learn about what our employee-centric philosophy is, as told from Drew Greenblatt, President of Marlin Steel:
Popular Wire Pail Handle Sizes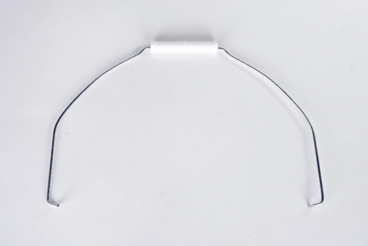 Pail handles are galvanized steel wires attached to pails to make moving them easier. One-gallon pail handles are suitable for lighter loads, while 5-gallon pail handles come with an optional comfort gripper to help carry heavier loads. Here are some common handle sizes:
1-Gallon Rounded Handle (02511006): Constructed from 12 gauge, 0.105" galvanized wire, the 1-gallon rounded handle is ideal for lightweight pails, paint cans, and buckets. Because this circular handle lacks a plastic hand grip, it is best suited for transporting loads weighing less than a gallon.
1-Gallon Handle (02511012): Also made of 12 gauge, 0.105" galvanized wire, this wire handle is intended for lighter loads of a gallon or less.
5-Gallon Handle (02511010): This premium 5-gallon galvanized wire handle has an optional white gripper for comfortably carrying heavier loads. This steel handle is made of 10 gauge, 0.135" galvanized wire.
5 Gallon Handle (02511011): To minimize strain while lifting, this 9 gauge, 0.145" galvanized wire handle is suitable for loads up to 5 gallons. Its shape and design are ideal for metal or plastic buckets, cans, and pails.
Wire Pail Handle Finishes
Marlin Steel's wire handles have an elegant and polished finish, ideal for shelving goods that may be visible to customers. For example, companies in the food and paint industries often sell and display items with wire handles in retail settings. Wire handles with grips allow companies to select the grip color that best matches their product.
Premium Wire Pail Handles From Marlin Steel
Marlin Steel is the largest producer of wire pail handles in the country. Using steel produced in America, we manufacture all our products in the United States to ensure our customers receive the best quality and their orders quickly. Every wire pail handle we make will fulfill your carrying requirements, resist corrosion, and remain durable throughout its service life.
Contact us today or browse our product page to learn more about how our steel wire products can help with your next project.