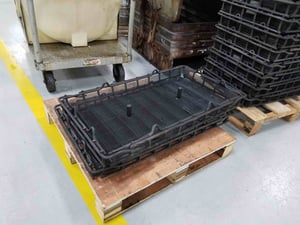 Many of the custom stainless steel baskets that Marlin Steel makes for clients are used in heavy-duty applications. However, few applications would be as stressful as heat treatment. In one recent custom basket design request, the client requested a basket that would be used not only for a heat treatment process—it would also be used for an ultrasonic degreasing process while holding up to 60 pounds of small parts (about 300 parts per basket) and being able to stack to save space.
This meant that the custom heat treat baskets would have to withstand:
High temperatures of 1,700 degrees Fahrenheit (˚)F for seven continuous hours;
Intense vibrations from the ultrasonic cavitation process;
Prolonged exposure to the chemicals used in the ultrasonic degreasing solution; and
Heavy impacts and sustained weights from the stacking of baskets.
It would take an incredibly well-designed and rugged basket to handle all of these different stress factors without breaking. Marlin's engineering team was up to the task.
Perfecting a Versatile & Heavy-Duty Custom Stainless Steel Basket Design
It was obvious from the initial design proposal that the basket would have to be made extraordinarily tough. To accommodate all of the client's needs, Marlin's engineering team started to design a basket that would be considered overkill in terms of durability for most applications.
The client requested that grade 330 stainless steel alloy be used for the wires of the basket—a good choice, considering that 330 SS is rated for continuous exposure to temperatures of up to 1,900˚F. Also, grade 330 stainless steel has a high impact tolerance and tensile strength compared to most non-metal materials. This would help the basket stand up to the weight of its held parts and the stresses of the client's ultrasonic degreasing solution.
To further increase the toughness of the basket, the wires used in the wire mesh were made especially thick, and two large posts were installed to support the weight of the next basket to be stacked on top. These posts were welded directly to the frame to maximize support and prevent the wire mesh from sagging.
The frame itself was made of extra-thick wires to help further maximize the strength of the heat treat basket for when it would be stacked five or more units high (which meant that the basket needed to be able to withstand roughly 300 pounds of weight or more).
Despite being a degreasing process, the chemicals used in the client's ultrasonic degreasing solution were relatively mild—just a surfactant and water. The chemical resistance properties of grade 330 SS were more than enough to withstand prolonged exposure.
To verify that the heat treat basket would be tough enough for the client's process, Marlin's engineering team would test it using finite element analysis (FEA) software. If the basket failed the test, a report would be generated detailing the reason (or reasons) why so the design could be adjusted accordingly. This test would be repeated every time a new design iteration was completed.
For example, if grade 330 SS wasn't enough to withstand the heat treat process because of prolonged spikes into temperatures exceeding 2,100˚F, then another material, such as Inconel® would be recommended to the client.
Building the Best Heat Treat Baskets Possible
Once the design details were hammered out, Marlin's manufacturing team set to work tooling and programming the various wire bending and welding robots in the Baltimore, Maryland factory.
These manufacturing robots were able to bend and cut every last wire to an exacting level of precision so that every basket, from the first to the last, could meet precise parts tolerances. The entire process, from start to finish, occurred in Marlin's U.S.-based factory, with every part being manufactured to with pride to a "Made in the USA" standard.
Better yet, because the whole manufacturing process took place in the U.S. and the finished baskets were shipped straight from Baltimore to the client, there was no delay for customs processing or snail-like overseas shipping vessels.
Marlin went from design concept to shipping out a finished, high-quality heat treat basket that could also survive ultrasonic degreasing solutions and hundreds of pounds of additional weight in less than a couple of weeks—a fraction of the time it takes for most overseas shipping to get from one shore to the next!
If you need Quality, Engineered Quick®, contact the experts of American-made quality at Marlin Steel today!