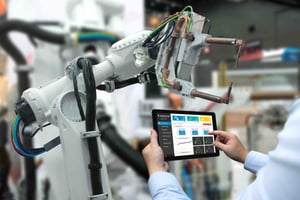 Amazon's re:MARS conference is an annual event inspired by Amazon founder Jeff Bezos' MARS event, which covers topics in machine learning, automation, robotics, and space. This year, Marlin CEO Drew Greenblatt has been tapped to speak at re:MARS about Marlin's adoption of factory automation and how it has helped the company keep its doors open and grow jobs.
From Bagels to Boeing
Long-time subscribers to the Marlin blog may be familiar with how, in 1998, the company was known as the "King of the Bagel Baskets." In the few short years immediately following the acquisition of the company by current CEO Drew Greenblatt, the company was put into crisis. Marlin's bagel store customers were dying out thanks to low-carb diets—and the few that remained were being inundated with ultra-cheap foreign made baskets priced at less than the cost of the steel needed to make them.
Almost overnight, Marlin's business dwindled to nearly nothing. Eventually, it came to the point where the company's leadership was faced with the choice to keep struggling on, or to simply close the factory doors—like all too many other American manufacturers faced with unbalanced competition. Everyone at the factory would have lost their jobs if it weren't for a fateful call from a Boeing engineer who needed precision-made baskets instead of the loosely-engineered baskets Marlin was used to making.
During the manufacturing process for this custom wire basket order, Marlin's manufacturing team and leadership realized two things:
This high-precision market represented an enormous opportunity for Marlin, one where quality trumped cost; and
Marlin's current manufacturing equipment and methods would not be enough to break into this market reliably.
How Automation Empowers Jobs and Growth
To meet the high-precision demands of aerospace companies and other industries that require incredibly tight parts tolerances, Marlin's leadership decided to adopt factory automation and robotics tools.
With the advantage of robotic assembly methods, Marlin Steel was able to:
Switch employees from dangerous manual labor to focus on more cerebral and engaging design and programming work;
Vastly improve employee safety records—the company went from near-Dickensian conditions with workers who were missing fingers and eyes to having a years-long streak of no time-lost safety incidents;
Meet incredibly tight parts tolerances consistently with ease;
Increase productivity and speed of assembly for custom wire forms; and
Create a new focus on quality of assembly that most foreign competitors couldn't match.
By entering a market where quality mattered more than cost per unit, Marlin Steel was able to not just weather the loss of its bagel basket clients, it grew to meet new heights.
The use of automation was what allowed CEO Drew Greenblatt to transform the company that he bought for $600,000 in 1998 into one with more than $6 million in annual revenue—all while saving the company and its employees from bankruptcy.
When and Where is the re:MARS Conference?
This year's re:MARS conference is taking place at the Aria Resort & Casino in Las Vegas, Nevada (3730 S Las Vegas Blvd, Las Vegas, NV 89158). The event starts on June 4, 2019 and will end on June 7, 2019.
You can sign up online to attend the re:MARS conference to hear more about Marlin's story from the company's CEO in person.
Curious about Marlin's custom wire forms for manufacturing applications? Reach out to Marlin Steel today to learn more.