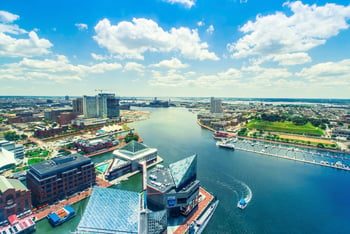 Each year, NASBITE International hosts a summit for national small business exporters where they can share best practices and the lessons they've learned. By engaging in this dialogue, manufacturers can broaden their knowledge and help one another succeed. The event is a great opportunity for manufacturers who are looking to grow the export side of their business so they can reach the 95% of the global market that lives outside of the U.S.
This year, Marlin Steel CEO Drew Greenblatt will be attending the National Small Business Exporters Summit to participate in the discussions and to represent Marlin as one of two businesses nominated for the "2018 Maryland DEC Outstanding Exporter" award.
Reasons to Attend the Summit
Aside from being a great opportunity to expand your knowledge of topics affecting the exporting side of your business, the summit is a chance to network with vendors that have experience in exports and to get a feel for the state of things in the exporting community.
Plus, being able to meet with business leaders who are excelling in exporting could be an invaluable opportunity in and of itself.
As NASBITE International states on the summit's website:
"The master-class format of the National Small Business Exporter Summit provides forward-thinking CEOs and upper-level management and export executives with direct access to high-level networking and shared-learning opportunities. Attendees will be provided information on powerful tools, techniques and resources that outstanding exporters from across the country have used to guide export growth and success. Insights will be shared that Summit attendees can adapt/adopt within their own business settings to support business growth and development. The Exporters Summit presents the same networking and shared learning opportunities for international trade assistance providers, exporters and educators."
If your business could benefit from exporting its products, then this summit is an opportunity that you shouldn't miss.
Where is the Summit?
The Summit for 2018 is taking place in Baltimore, Maryland at the Sheraton Inner Harbor Hotel. Specific meetings for the summit will take place in the Sheraton's Harborview and Chesapeake Ballrooms.
When is the Summit?
The National Small Business Exporters Summit is taking place on Wednesday, March 21, 2018. Registration for attendees begins at 7:00 a.m. on the day of the summit, and events will continue in various rooms until 7:30 p.m.
After the summit is over, another event, the NASBITE International Annual Conference, will begin on Thursday, March 22, and continue through Friday, March 23. This will expand on the summit by offering various educational and networking opportunities for attendees.
Join Marlin Steel at the second annual National Small Business Exporters Summit later this week!