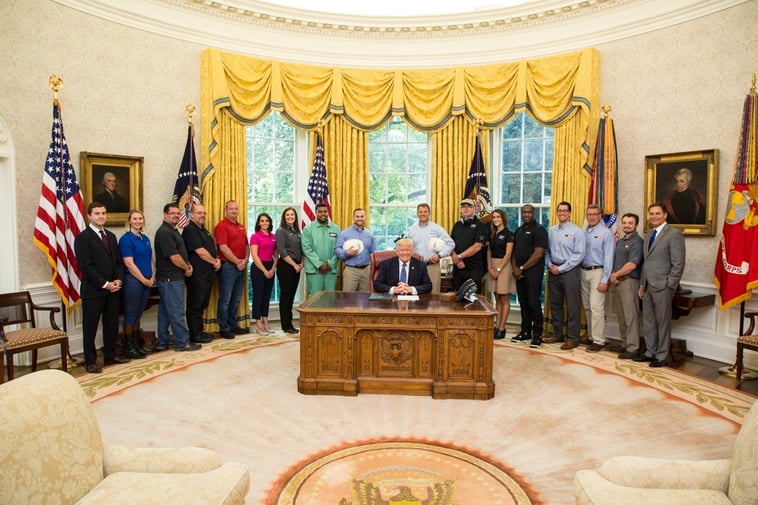 In 2012, the Founding Partner Fabricators and Manufacturers Association, International created a special event called Manufacturing Day. The event is held on the first Friday of October every year and is "designed to amplify the voice of individual manufacturers and coordinate a collective chorus of manufacturers with common concerns and challenges" according to the MFG Day website.
On October 6, 2016, Marlin Steel was honored to be a part of the Manufacturing Day Celebration by attending a White House ceremony held by President Donald Trump. Molly Flax, Marlin's special projects manager, and Nathan Myers, a CNC wire forming manager, represented the Marlin Steel team at the ceremony, accompanied by representatives from several other manufacturers and representatives of the National Association of Manufacturers (NAM).
Why Manufacturing in America Matters
The highlight of the event was a speech by President Trump that was delivered from the Oval Office. During the speech, Trump addressed the effects of reshoring American manufacturing, stating that "we're all better off when we make, buy, and sell more products made in the USA. And that's what's happening in our country and you see it. The levels of enthusiasm are incredible."
President Trump went on to talk about Manufacturing Day, and how it helps to raise awareness of the issues facing modern manufacturers:
"Today and in the coming weeks, manufacturers in all 50 states will hold events to encourage more Americans to pursue a career in the high-tech—and the high-tech world of modern manufacturing. My administration strongly supports that goal—and we've been strongly supporting it for a long time. And, it's really now starting to pay off, as everybody behind me knows. That's why I've asked members of my Cabinet to travel across the country, share our message, and meet with the workers. And they are hard workers. And we've created tens of thousands of new manufacturing jobs. Plants and companies are coming back into our country. You see it with announcements now from automobile companies—to every kind of company. They're coming back in and, perhaps even more importantly, they don't want to leave anymore. Because they know they're leaving a very good thing. So, we're creating thousands more jobs."
The Need for Tax & Regulatory Reform
However, if manufacturers are to bring forth a new manufacturing renaissance, things can't just stop at increased awareness of issues. American manufacturers, particularly small-to-midsize businesses, need action on tax reforms to alleviate the burdens that put them at a disadvantage against their foreign competitors.
This is something that the President covered in the next part of his address in the Oval Office:
"And, if Congress acts on our historic tax cut—the largest in the history of our country—and also tax reform. Add that framework that we've put forward, it will be even more so. Under the current law, products made in America taxed at a margin or rate of 35%, and really, sometimes, much higher than that—putting our manufacturers at a tremendous disadvantage to the manufacturers in other countries. We want to dramatically reduce the tax on American manufacturers so that we can compete and win on the world stage."
President Trump then introduced some of the workers who were in the Oval Office for his speech, starting with Marlin Steel's own Molly Flax, who was given a chance to speak about the Administration's efforts on regulatory reform: "Thank you, Mr. President—and your Administration—for taking on 300,000 regulations. It's going to make it easier to do our jobs—make us more competitive."
Small business manufacturers face a disproportionate regulatory burden compared to other industries—one that makes it much more difficult to sustain and grow the business. Just to put the burden into perspective, an estimate cited in a previous blog stated that SMB manufacturers with less than 50 employees faced "regulatory costs of $34,671 per employee each year, triple the rate of the average U.S. business."
This is why the Trump administration's efforts to cut back unnecessary and redundant regulations is so important for the manufacturing sector. By eliminating pointless regulations, Trump can help manufacturers cut their costs so they can hire more people and invest more into innovating their businesses.
However, some regulation is still needed. As President Trump said:
"We've cut regulations more than has ever been cut before… At the same time, I like regulation. It's fine, we want clean air, we want crystal-clear water, what we want also is we want safety. But, there's a point at which we have to take care of our country and we have to take care of our workers and our companies."
Regulations help protect our environment and our workers from the worst issues, but when regulations are made without considering their benefits vs their impacts—when a company can lose tens of thousands of dollars for a single missing signature in a 20+ page document with scores of "sign/initial here" lines despite meeting all of the regulation's practical guidelines—then the regulation may be going too far.
Marlin Steel looks forward to helping raise awareness of the challenges faced by manufacturers in the USA, and to building a better future for manufacturing workers!
You can see the video of President Trump's speech here.