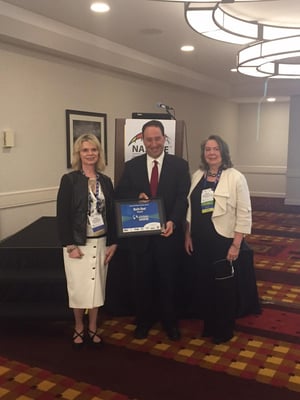 Exports are critical to the economic health of the American manufacturing industry. While the USA remains an economic powerhouse, the fact of the matter is that of the 7 billion people who live on this planet, only a small percentage of them live in the United States—roughly 325.7 million as of 2017, according to the U.S. and World Population Clock. This means that a little more than 95% of every manufacturer's potential customer base lives outside of the USA.
If manufacturers are to grow and help bolster the American economy, they need to be able to export their products to markets outside of the U.S. Here, the efforts of small businesses can be just as important as those of larger manufacturers, since it is often small, specialized manufacturing companies that make the tools that bigger companies around the world use.
Recently, Marlin Steel was awarded recognition as an "Outstanding Exporter" at the 2018 National Small Business Exporter Summit in Baltimore, Maryland. This award was given in recognition of Marlin's accomplishments, both as a company that exports high-quality products to other countries and as a proponent of American manufacturing and exporting.
At the NASBITE-sponsored summit, Marlin Steel CEO Drew Greenblatt accepted the award and delivered a quick speech about the importance of manufacturing and exporting goods to the American economy. Here are a few highlights from Drew's speech:
Exporting and Jobs
Early on in his speech, Marlin's CEO highlighted how only 4% of the world's population lives in the USA. By exporting to other countries around the world, American manufacturers can massively expand their target markets to fuel growth. This growth, in turn, will help create new, high-paying jobs.
How high-paying? In his speech, Drew highlighted that the average manufacturing worker earns around $80k a year in salary and benefits. Compare this to the median wage of fast food workers—which is about $21,040 a year, according to the U.S. Bureau of Labor Statistics (BLS). Workers at factories that export earn even more—around $90k per year.
In other words, one manufacturing worker can earn more than four times what the average fast food worker does. So, rather than having to live in constant "struggling-to-hold-their-heads-above-water" debt, manufacturing workers can earn a living wage and bring their families into the middle class.
Because of Marlin's growth in exporting to companies in countries like Mexico, the company has had to add new people just to handle the exporting.
The Importance of Trade Agreements
Another focus of Drew's speech was the importance of having trade agreements with other countries if American manufacturers are going to have a fair shake in foreign markets. As Drew said in his speech:
"Right now, a lot of people have been talking about how bad trade agreements are—how they're not working. Well, the facts don't bear that out. In reality, countries that we have trade agreements with; we have a surplus with those countries. Countries we do not have trade agreements with—they're eating our lunch. We have a deficit of 639 billion dollars with countries that we don't have deals with."
When American companies are considering exporting to other countries, it's a good idea to start with countries that the U.S. has free trade agreements with. These countries are far more likely to give American exporters a fair shake and opportunities for growth.
Overall, getting fair trade agreements with other countries—ones that put both American manufacturers and companies operating in those countries on equal footing—is crucial for growing the U.S. manufacturing economy. So, working with legislators to promote the establishment of such trade agreements may be crucial for the future success of the American economy as a whole.
The Power of "Made in America"
Overseas companies will pay for high-quality products—especially when they need parts that meet exacting production tolerances. In his speech, Drew talks a bit about the power of the "Made in America" brand and the impact it has in foreign countries. At one point, he talks about how some foreign countries hold goods made in America in higher regard than Americans do!
Part of the reason may be that American manufacturers are held to higher quality and safety standards than many overseas manufacturers. Another reason is that American manufacturers have invested heavily in manufacturing automation—machines that can complete specific tasks far faster and more consistently than any human worker can. The result is consistently high-quality goods.
Rather than selling on price, this allows American manufacturers to sell on quality.
How much do foreign companies who need superior-quality products value the "Made in America" label and the quality it implies? As Drew said in his speech:
"People feel good about buying on quality—there's more value there… I pay my team 30 or 20 times higher than employees in India—20-30 times higher than what they pay in China. However, my biggest client isn't an American manufacturer. It's a huge factory in Mexico and we just signed a contract last week. They're closing down their Indian vendor relationship and they're bringing all of their business to America… That's because, when they open that box in Mexico, which we ship once or twice a week, it's right. It goes right into production with no drama."
The difference in quality allows the Mexican factory to immediately put their American-made baskets from Marlin straight into production without having to deal with reorders, delays, or damage to their equipment that costs them time and money. Because of this, they decided to break ties with their former India-based supplier, even though they were "cheaper" up front—at least when you don't factor in the extra costs incurred from reorders and delays.
These are just a few of the highlights from Drew's speech to the National Small Business Exporters Summit. For the full speech, please click here. Thank you for reading! If you have any questions about Marlin Steel, or small business exports, please contact us today!