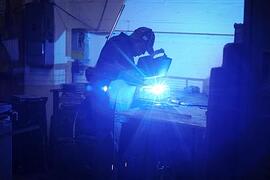 On October 24 in Washington D.C., the Aspen Institute's Economic Opportunities Program will be holding an event titled "Beyond Great Places to Work: The Business Case for Investing in Front-Line Workers" at their headquarters. From 12:00 noon to 1:30 p.m. on that day, presenters from Marlin Steel and several other pioneer employers will hold a panel discussion about how to invest in front-line workers to produce results for your customers and your business alike.
This event is a part of the Aspen Institute's ongoing Working in America series, which is working to raise awareness of employment conditions in America and highlight how businesses can benefit from employee investment.
Why Marlin Steel was invited
In the last decade and a half, Marlin Steel, as a company, has made a significant transformation from being a commodity bagel basket maker that was faced with certain demise at the hands of ultra-cheap foreign competition into a provider of top-quality custom machined metal forms. This change is the result of both:
A concentrated effort to modernize manufacturing practices with workplace automation and top of the line equipment.
AND
Investments in employee training and incentive programs that encourage and reward skills growth and innovation.
By investing in employees and growing their skills, Marlin Steel gained a top-notch workforce of innovators, people who can think on their feet and create innovative solutions to production problems that would stump less well-trained or motivated workers.
Beyond simply making training available to employees, Marlin Steel incentivized learning needed skills, and encouraged competition among employees by creating and displaying a skills matrix so that all employees knew who could do what, and identify opportunities for expanding their own skills list to earn a salary increase.
This increased skills redundancy, so that the absence of one worker wouldn't cripple production.
On top of incentivizing learning certain skills, Marlin Steel also created production goals to earn bonuses. This practice keeps employees sharp and on the lookout for ways to increase efficiency, as they can earn a bonus on any paycheck if they meet an aggressive, but achievable, goal.
To help facilitate creativity and improve worker efficiency, Marlin Steel provides employees access to top-tier tools and software to make innovating easier.
The end result speaks for itself. Because of the investment in workplace automation and employee growth, Marlin Steel has become a top-quality manufacturer of precision engineered custom metal forms. In fact, the Hitachi Foundation recognized Marlin Steel with a Pioneer Metal Award because of these game-changing investments.
Marlin Steel's employees can look forward to viable, long-term careers with benefits and good pay, instead of short term, dead-end wage slave jobs with a high rate of burn-out and injuries. In short, Marlin Steel's story is one of how employee investment can help to turn a company around and improve profitability. This is part of the reason why the Aspen Institute invited Marlin Steel to be a part of the panel at the Washington D.C. event on Friday, October 24.
Who will be there?
The audience for this event will include business leaders, the media, policy experts and advocates from several different industries.
Other panelists will include David Owen, the primary care medical director of the South Jordan Health Center and Kelly Wolske, the senior trainer of Zappos Insights. The panel will be moderated by Steven Pearlstein, a columnist for The Washington Post. Each presenter will provide a different perspective on how employee investment can help build a business and improve results, both in manufacturing and in other industries.
To learn more about the Aspen Institute's "Beyond Great Places to Work: The Business Case for Investing in Front-Line Workers" event, check out their events page, where you can find information about the time and location of the event, as well as register to attend.
We look forward to seeing you at this and many other events.