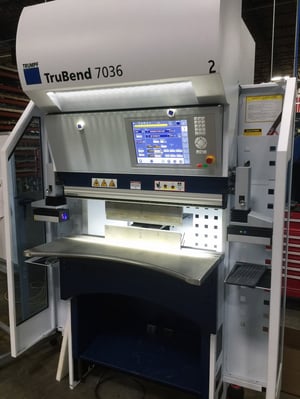 The team at Marlin Steel is proud to be on the cutting edge of American manufacturing. Part of how Marlin achieves superior quality and consistency is by adopting advanced factory automation technologies—such as the new Trumpf robotic press brake machine that the company has just acquired.
The press brake Trumpf TruBend 7036 is the latest in a long line of manufacturing tools that Marlin has acquired over the years. What is this Trumpf robotic press brake capable of? What are the benefits for the Marlin team? More importantly, how will Marlin's manufacturing team use it to help improve your next custom wire basket order?
An Accurate, High-Speed Press Brake Machine
The Trumpf TruBend 7036 press brake machine uses a gearless direct-drive motor to power the motion of the ram. In addition to providing extreme pressing force, the press brake has a set of backgauges that are made from a lightweight carbon fiber material—reducing the mass the machine has to move with each operation, to save time and energy. In practice, the Y axis movement speed of this Trumpf press brake is roughly 520" per minute. With a 5" Y axis stroke, this allows the machine to achieve up to 104 strokes per minute.
The Trumpf TruBend 7036 can apply up to 40 tons of press force to bend thick metal plates and wires as needed along its 40" table length. This allows the press brake machine to bend multiple assemblies at the same time, or for a series of dies to be placed in a row to create complicated shapes quickly. In this video, you can see the press brake machine bending metal forms 0.236" (6 mm) thick.
The positional accuracy of the Trumpf press brake's ram is with +/- 0.00008" along the Y axis and +/- 0.0008" along the X axis—making it one of the most accurate metal bending machines on the Marlin factory floor. A laser guide helps to ensure the accurate placement of each custom metal form placed in the press brake.
Getting Metal Bending Done Fast and Safe
Ergonomic features such as an adjustable armrest, footrest, and seat, plus lighting for both the front of the machine and its backrest area, help ensure that Marlin's workers can work efficiently and safely in comfort. This allows the Marlin manufacturing team to complete metal bending tasks quickly without the delays caused by lost-time safety incidents.
Using a press brake machine can be dangerous work—especially when workers are repeating the same motions over and over to complete a large custom wire basket order. By improving the ergonomics of the machine, the Trumpf press brake design helps to reduce repetitive motion stress injuries. Additionally, the machine's internal lighting system helps to ensure that operators can always see what they're doing, which is crucial for safely using a machine that can apply tons of force.
The efficiency of the press brake helps the Marlin manufacturing team get custom wire and sheet metal forming jobs done faster, increasing their overall productivity.
What Does Marlin's New Press Brake Mean for You?
Marlin's new Trumpf robotic press brake machine means that:
Marlin will be able to tackle a range of demanding custom metal forming jobs faster and more efficiently.
You can expect Marlin to meet very tight parts tolerances for custom-shaped metal forms.
Like with all of Marlin's other factory automation tools, the manufacturing team will use the press brake TruBend 7036 to help save time and maximize quality for our customers.
If you have any questions about the TruBend 7036 press brake machine, or about Marlin's custom manufacturing capabilities, please contact us.