BOSTON, Massachusetts -- Marlin Steel, a leading manufacturer of industrial material handling containers, has been selected for the second straight year for the "Inner City 100" award by the Initiative for a Competitive Inner City (ICIC).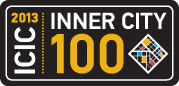 The award, announced by the ICIC and FORTUNE, goes to the fastest-growing companies in America's inner cities. The non-profit research and strategy organization was founded in 1994 by Harvard Business School Professor Michael E. Porter to support economic growth in urban areas. The award ceremony last night in Boston concluded a two-day forum where companies from around the country, including Marlin Steel, worked to develop business-led solutions to challenges that confront inner city economies.
"We're thrilled to be recognized again by the ICIC and to be in the company of other entrepreneurs who are creating jobs in cities throughout America," said Drew Greenblatt, president of Marlin Steel. "The comeback of manufacturing is important for the nation to nurture because it feeds such critical needs as job creation, global competitiveness and technological innovation."Other honors for Marlin Steel during the past year include being ranked as the 162nd fastest growing private manufacturer in America by Inc. magazine and being one of three U.S. winners of the Metalforming Pioneer Award from the Precision Metalforming Association and The Hitachi Foundation.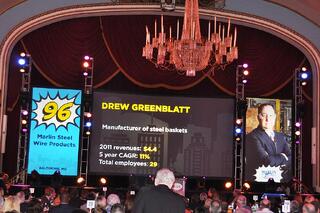 The businesses honored by the Inner City 100 program are typically small to medium-sized. The median firm honored is 11 years old with about $8 million in annual revenue, 45 full-time employees and a five-year compound annual growth rate of 39 percent. Across all sectors, Inner City 100 firms are more productive than their sector peers throughout the U.S., according to U.S. Census data. The list of winners, chosen from among 1,000 nominees, can be viewed at Fortune.com.
"We are excited to celebrate inner city businesses like Marlin Steel whose success stories are not told nearly enough," said Mary Kay Leonard, ICIC President and CEO. "These entrepreneurs are driving economic forces in America's urban cores, growing their communities along with their businesses."
Although based in the inner city, these companies derive more than half their revenues from regional, national and international sales. Marlin Steel, in fact, now exports a quarter of its product to international markets, including China, Taiwan, Singapore, Japan and Australia.
Marlin Steel Wire Products fabricates custom wire forms, stainless steel wire baskets, metal hooks and sheet metal enclosures. The company was established in 1968 and has increased revenue seven years in a row.