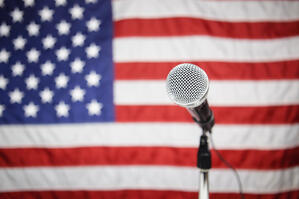 On Tuesday, May 3, the World Manufacturing Forum 2016 (WMF2016) will begin in Barcelona, Spain at the Casa Llotja de Mar. This forum will gather industry leaders, policy experts, and academic leaders from around the globe to answer the question: "How can industry accelerate advanced manufacturing in the era of smart, sustainable and inclusive growth?"
The forum will take place across two days of discussion panels, keynotes, and presentations that are designed to help manufacturers move forward in the modern age and spark a new industrial revolution.
In fact, Marlin Steel's own CEO, Drew Greenblatt, was invited to speak at WMF2016 as part of a panel discussion taking place from 8:40 am to 10:10 am on the second day of the event titled "Small is Beautiful?" This panel discussion will also feature:
César Molins, CEO and Chairman of the Board for AMES S.A. Group
Massimiliano Ruffo, CEO of FIMAP S.p.A.
Dan Nagy, the Managing Director of IMS Inter-Regional Secretariat will chair the discussion.
Why Small is Beautiful in Manufacturing
In many economies, it is the small manufacturing entities that drive growth, jobs, and innovation. As noted in an article by the Small Business Association, "98 percent of America's manufacturing firms are small. More than one in three American who work in manufacturing work at a small business." These facts help prove just how big "small" manufacturers are in the American economy.
The beauty of small manufacturing is that not only do small manufacturers drive jobs, innovation and growth among themselves, they have tremendous room to keep growing, especially if they can start competing on the global market.
However, there are many challenges getting in the way of smaller manufacturers reaching the global market, such as stronger global competition, recent global crises, and a scarcity of institutional or entrepreneurial lending for small manufacturers.
This discussion will help to highlight the best practices of manufacturers that have engaged in global markets, as well as discussing future challenges and solutions to expansion in international markets.
Why Attend?
WMF2016 will be gathering industry experts from all over the planet, with 500+ attendees from more than 40 different countries. These experts will each be bringing their own unique perspective on the state of manufacturing, and the measures needed to move forward.
This is a golden opportunity to get invaluable insights into the state of manufacturing across the world from people who are immersed in different local markets. In short, this forum is a great opportunity to learn.
The World Manufacturing Forum gathers some of the brightest manufacturing minds from across the globe under one roof, and gives them a chance to share their knowledge and insights to help businesses around the world grow and innovate.
Being invited to speak at this forum is an honor, and the Marlin Steel team looks forward to seeing the manufacturing industry's best and brightest in Barcelona!